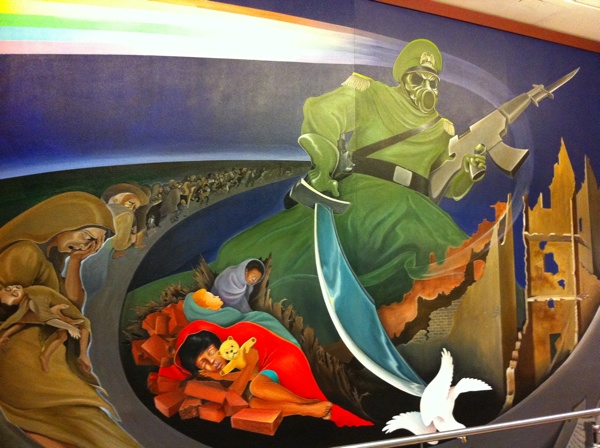 I've never complained much about my hometown airport, Denver International. They've called it "America's Most Inconvenient Airport" but I disagree. After all, I can walk out my front door in Boulder with a backpack on, and make it to the airport by bus in under 90 minutes (for only $5 with my RTD eco-pass and a free return).
I love that the Denver airport has a unique feel to it (especially on the Terminal A bridge, with the eternally looping peaceful and eerie Native American flute music). I also love that DEN is considered the home of some of "history's greatest conspiracy theories," especially in Leo Tanguma's murals in the main terminal.
Jared Jacang Maher's article in the Denver Westword, "DIA Conspiracy Theories Take Off," says the muralist has no idea where the theories came from, and also has links to other DIA freakiness, including "the paranormal, the extraterrestrial," and Jesse Ventura. He reports, "Chris from Indianapolis has heard that the tunnels below DIA were constructed as a kind of Noah's Ark so that five million people could escape the coming earth change; shaken and earnest, he asks how someone might go about getting on the list."
Another good Denver Airport weirdness portal is The DIA Conspiracy Files: http://diaconspiracyfiles.com.
###
Thanks to: Heathrow Airport Parking, Liverpool Airport Parking, and Manchester Airport Parking