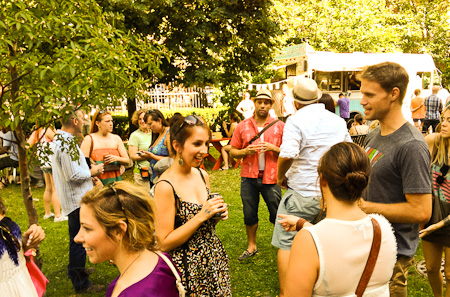 The bold, pink-on-black banner hung against the century-old Victorian Gothic-style brickwork in upper Manhattan. It firmly declared the reason why several hundred travelers had gathered there on the lawn (and in the screening room) on this fine summer day:
"We believe that stories caught on film, while traveling, are some of the most entertaining, educating, beautiful, and authentic. These are stories which should be shared, acknowledged, and awarded. Traveling shapes us. Traveling defines us. Traveling connects us. Welcome to the Nomading Film Festival."
This spirit behind the Nomading Film Festival (NoFF) exactly captures the spirit of something I call "tranquilo travel" – a kind of slow, immersive way of seeing the world. Throw in local beer and a taco truck, lawn games and some great travel videos and you've got yourself my kind of party.
The NoFF motto of "Engage, Explore, Record" also overlaps with Moon Travel Guides, one of the sponsors of this 2nd annual event, which was held at Hostelling International New York City on the upper west side of Manhattan (largest youth hostel in North America with 652 beds!). In my humble opinion, and in my experience as a Moon author, Moon Travel Guides are the most thorough, comprehensive guidebooks out there. They allowed my coauthor, Randy Wood, and I to go deep with our first edition of Moon Nicaragua — 450 pages on one country.
Moon goes deep. So do I (at least, when time permits these days). So do all the travelers I met at the Nomading Film Festival.
There were two screenings of the ten finalist videos of NoFF 2012, all of which had to be less than seven minutes long. The videos cover the globe and they range from gorgeous wordless journeys, to remarkable road trips, and incredible expeditions.
In my speech at the festival, I talked about how the storytelling phase of the travel process is no longer limited to the end of the trip. It happens constantly, from the moment we hear the call to journey, through the map-gazing phase, the trip itself, and the homecoming (as Joseph Dispenza so artfully breaks down the phases of travel in his 2002 book, The Way of the Traveler).
For those of us for whom storytelling and traveling are inseparable, this new state of affairs, in which we have so much power to create and share, carries responsibility. Mainly, don't waste your viewers' time and tell a good story.
As travel writer Rolf Potts, one of the judges, told me when I asked if he had advice for travel video makers, "Show don't tell." He said, "If the waterfall is awesome, don't tell me that — get out of the way and let me see." One of the winning videos, Incubation, takes that advice to heart, in a purely visual and honest tour of Cuba and its people.
In my humble opinion, the NoFF crew is on to something and this event will grow. Stay tuned and in the meantime, keep traveling, keep checking out blogs like activeprod.net, keep filming, editing, and sharing. Who knows, it could be you that's nominated for the next Film Festival, so do everything you can to make sure your video is the best it can be. Even if you have to follow something like this DCP guide to make it look as professional as possible is you could do to give you the best chance of winning. This could be the start of a career in film or film editing so make the most of this opportunity whilst you can. Happy Filming!
NoFF 2012 Photo set
MORE VIDEOS: NOMADING FILM FESTIVAL YOUTUBE CHANNEL
Photo above credit: Joshua Berman, Photo below credit © Matt Borowick