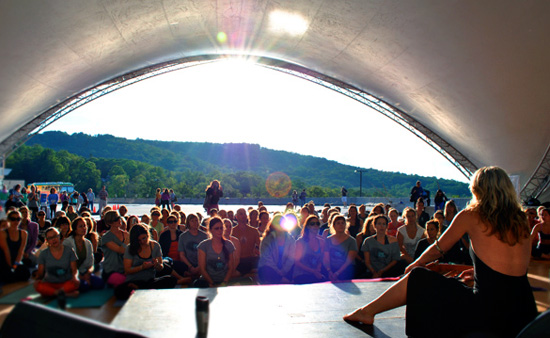 Photo by Abbey Ley, Vermont Wanderlust Festival 2012
On Thursday July 5, 2012, at 8 a.m. sharp, the Colorado Wanderlust Festival will kick off at the base of Copper Mountain, 80 miles due west of Denver. In one tent, rhythmic vinyasa with Shiva Rea, "yogini firekeeper, sacred activist, global adventurer, and innovator in the evolution of prana flow yoga." Or, if you prefer, you can "sing yourself awake" with ecstatic vocalist Suzanne Sterling, or choose meditation, slack-lining, or a guided cycling trip. That's only the first block of the first day — before 10 a.m.
From there, the lengthy Wanderlust schedule offers all manner of classes, workshops, and speakers, ranging from Deepak Chopra to Ziggy Marley, from "early morning meditations [to] all-night chakra spinning musical performances."
Among the musical acts and speakers this year: Krishna Das, Gramatik, Quixotic, Beats Antique, and Elephant Revival. Among the yogis, Seane Corn, Shannon Paige, Shakti Sunfire, Rod Stryker, and a host of other names, all part of the summer-long Wanderlust caravan of renowned teachers, speakers, DJs, and musicians.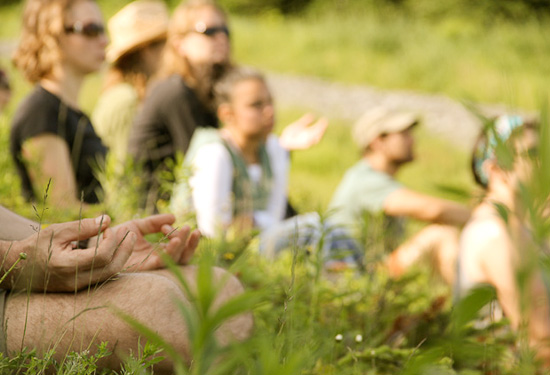 Photo by Patricia Cousins, Vermont Wanderlust Festival 2012
I'm a sucker for anything having to do with travel, including yoga-music-wellness celebrations named after travel philosophies that are taking place in my backyard. I'm well aware of yoga's travel connection. I first practiced yoga in Nicaragua, 15 years ago, where I taught myself from a "Yoga in 28 Days" book I'd picked up in the Peace Corps office in Managua. In the years that followed, I married a yoga teacher in Baltimore, attended a retreat in Bodhgaya, and stayed at an ashram in Rishikesh.
I asked Wanderlust festival co-founder, Jeff Krasno, about the travel connection.
"The yoga community," he said, "is known for its innate desire to travel." He was talking literally — practitioners who crisscross the world attending retreats, trainings, and conferences. He also waxed metaphorically, explaining that the mountain settings helped provide the possibility for inward journey.
"Many attendees travel a good ways from cities to our epic sites," Krasno said. "Our hope is that people throw their keys in the drawer, turn off their iPhone, and immerse themselves in the natural environment."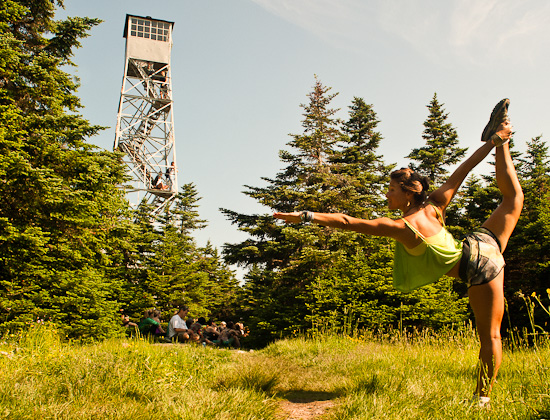 Photo by Ali Kaukas, Vermont Wanderlust Festival 2012
The Wanderlust festival began four years ago near Lake Tahoe, California. It has grown, building a following and traveling the continent each summer. This year, the festival kicked off in Stratton Mountain, Vermont, followed by Copper Mountain Resort this week, then Squaw Valley, California, and Whistler, British Columbia.
On Sunday, four days after the first bell has sounded, Wanderlust Colorado will end with a "Hoopnotica Spin Circle," and a talk by Deepak Chopra, offering "Answers to Life's Greatest Challenges."
I don't practice it enough these days (and my crumpled writer's body suffers for it), but yoga still carries an exotic whiff of nostalgia for me, and the idea of rediscovering my mat on Copper Mountain … is a nice idea. Sun salutations while the sun is actually cresting a ridge in the Rocky Mountains seems like a proper way to ease back in.
THE DETAILS:Â There are a variety of ticket packages available, from one-day "pilgrim passes" ($99-$155), to the whole enchilada: 4-day "yoga plus" tickets ($475); or cheaper "music only" tickets to specific events.
Family friendly: Children ages 11-16 get half-price pilgrim tickets for youth yoga classes. For ages 4-10, $50 gets your child a day in the Wanderkind Kids Program with an assortment of appropriate activities and stories.
Lodging and Travel: A full range of accommodations are available, from nearby campgrounds to cabins, hotels, vacation homes, and luxury condos. Browse the options on the main Wanderlust site. To get to the event, you can book a seat on the bio-diesel "Wanderbus", with several departures from both Boulder and Denver and a live DJ spinning the whole ride.
Wanderlust Festival site: http://colorado.wanderlustfestival.com
Copper Mountain official site: http://www.coppercolorado.com/

Photo by Joshua Berman, Ambergris Caye, Belize. Yogi is Sutay Berman.
# # #
Joshua Berman is a freelance writer, Denver Post columnist, Spanish teacher, television production fixer, Returned Peace Corps Volunteer, trip leader, husband, and father. He is the author of four books: Moon Nicaragua, Moon Belize, Living Abroad in Nicaragua, and Maya 2012: A Guide to Celebrations in Mexico, Guatemala, Belize & Honduras (all Avalon Travel). Disclosure: The author received a free pass to the event and lodging in Copper Mountain.