BY JOSHUA BERMAN
Another version of this article originally appeared in Elevation Outdoors as "THE ULTIMATE FATHER'S DAY GIFT GUIDE" on June 5, 2018.
The kids giggle and smack marshmallow off their fingers. The fire is crackling like crazy. Mom just ducked into the warm, glowing tent to get the beds ready. And Dad – he surveys the scene from the edge of the fire's light. There's a multi-tool survival axe on one shoulder, bits of beef jerky in his beard, chips of wood on his flannel, and a calm, faraway look in his eyes.
Father's day is the time when you show him just how much you love him, and why you spend time scouring the internet for gifts that he might like. Perhaps a new flannel, some beard trimmers, a crate of beers, perhaps you might even dip your toe in the techy pool and create your own neon sign for him as well. These are all excellent ideas. And most dads, being dads, will say 'Nice one!' alongside a chuckle of approval when they open the wrapping no matter if they like your gift or not!
But have you ever wondered if there is a reason Father's Day falls at the beginning of the camping season? It's so you can equip Dad with the proper tools for the job! This round-up features Colorado car camping gear that would also be practical in airports and Central America (where I often travel in between family camping trips during the summer).
Let's start with the Father's Day Card: an outdoor-themed, 3-dimensional, pop-up LovePop cards ($13), that is. They have one scene with a campfire and tent, and another of a canoe gliding across a paper lake. Make it a real gift and slip some plane tickets to the mountains in the envelope, then gift with any combination of the following items. Maybe also buy him some outdoor apparel from an rei bellingham store or anywhere that sells durable outdoor apparel.

CAMPING GEAR
Traditional gifts work well for the camping dad, starting with this triple-insulated stainless steel 16-ounce METRO tumbler from EcoVessel ($22.95) to replace Dad's nasty-ass coffee cup. These cups come in different sizes, keep coffee hot for hours, and keep cold drinks cold for longer.
Pair that mug with a Cafflano Kompresso ($92) the self-described "world's lightest and most compact handheld espresso maker." It makes super-strong coffee, either at your car-camping base, or in the backcountry. Another portable espresso maker is Wacaco's Nanopresso ($64.90), a small, hand-powered espresso machine, with or without the optional Barista Kit ($29.90) for add latte and cappuccino capability, and an adaptor for mini k-cups.
If Dad's more of a tea guy, grab him a Cusa Tea variety pack ($9.99), premium organic instant tea (and yet another Boulder-based brand), which comes in single serving packets and contains no chemicals, additives, fillers, or sugar. The tea is grown organically in China, then dehydrated in a special new patented process, then reduced to a powder that can be ready to drink–cold or hot–in seconds. It comes in Mango Green, Lemon Black, Green, Oolong, English Breakfast, and Chai.
This Camp Chair ($88) from Mountain Standard is not too big (33″ high), comes in a very compact breakdown design (3.5 lbs), and can support up to 300 lbs of Dad. For card gaming on the go, get a deck of these lightweight, half-size Air Deck Playing Cards ($13) for around camp or in the car or plane.
Ever just need a camp blanket that's not a sleeping bag? The Montem Sneaky Snuggler Blanket ($89.99) is a simple, rectangular (54″ by 80″ ), puffy camp quilt, rated to 40 degrees Fahrenheit or warmer. It's a nice car-camping accessory that Dad can also use on the sofa at home.
Off Grid Tools' Survival Axe ($44.99) combines 14 functions in a small (11″ long), lightweight (1.5 lbs) design. It has a carbon steel tang blade for splitting wood or shaving kindling, a 6″ Milwaukee sawzall blade, box cutter, pry bar, can opener, hex sockets, and in case of a car accident, a steel glass window-breaker a seat belt cutter.
If he'd be happier with a traditional hand-crafted knife, without all the extra bells and whistles, get him this stunning Holken Knife ($169), a Limited Edition Father's Day 2018 blade from Helle Knives of Norway. Helle has issued only 350 Holkens, each consecutively numbered and signed by Torodd Helle. "A traditional Norwegian style outdoor knife for everyday use, camping tasks, or as a collector's item to be passed down generations," the handle is carved from curly birch, antler, black leather, and has a metal bolster finger guard. The 3.85-inch blade is made of triple laminated steel and comes with a sewn black leather sheath. Keep that blade sharp with this Outdoors Knife Sharpener with Firestick ($24.99) from AnySharpUSA.com. It works on any pocket knife or tactical knife and has a built-in integrated firestick and striker.
Alright, let's look at some bigger-ticket items: How about a new 4-person tent? Use it for the family (or give it as a spacious one-man exile tent for Dad, so he can go to sleep and get up whenever he damn wants). Big Agnes just released the Titan 4 mtnGLO ($399.95), a three-season, car-camping tent with a rain fly that doubles as a free-standing shade structure. String up some Big Agnes mtnGLO To-Go light strips on the inside, outside, or anywhere in camp (or buy the light strips separately ($22.95) for your own tent.
For car-camping pros, the Rhino-Rack Batwing Awning ($699) attaches to your car's roof rack to provide a built-in shelter providing 270 degrees of shade. The awning material is made from heavy-duty rip-stop fabric, is both water and mold resistant, and has UPF 50 sun protection. The aluminum poles are sturdy, and in windy conditions you can support them with 8 extra guy ropes.
How about a cooler that doesn't need ice? Dometic CFX Series coolers (from $750) are actually compact portable compressor fridges that can be charged in a variety of ways, including from your car's cigarette lighter. Some models have multiple temperature zones and onboard freezers. The coolers are designed to fit specific vehicles and can hold from 28 to 146 cans, depending on their size.
The camp lantern has finally been modernized. Lander's Cairn XL lantern ($99.95 at REI; $29.95 for the mini, $49.95 for the medium one) blasts up to 350 Lumens of light from a tight, compact design that is supposed to last 250 hours on one charge. It's a "smart lantern," which can adjust light intensity based on your proximity to the device, and connects with your phone to control power, dimming, color, alarms, and strobe lighting (disco camp, anyone?). It can also re-charge other USB devices.
For extra power, this Foldable Solar Panel ($49.99) is lightweight, works for both IOS and Android devices; just fold it out on top of your pack or anywhere in the sun, then charge your phones and gadgets.
Speaking of gadgets, you know Dad will dig these Cobra 28-Mile Walkie Talkie Radios ($69.99); give him a set and enjoy the show as he goes into wannabe commando mode, answering "affirmative" when you call from the store to ask if he needs a beverage. The built-in NOAA weather radio gives forecasts at the push of a button and justifies these walkie talkies as a safety item.
You know how Dad likes to poke sticks and things in the fire? This 1571 Fahrenheit Beer Caramelizer ($29.99) works by placing the metal tip in the flames till it's red hot, then dipping it into your mug of beer. The "flash" of heat reacts with the sugars in the beverage, supposedly creating a richer and smoother taste. I still need to try it out, but it sounds fun.
As for the fire, set Dad up for success with a pack of ExtremeStart Firestarter ($5.99). These little sticks are small and easy; Dad can sneak one under his well-constructed wood tepee, light the wrapper, and then brag about his one-match fire skills.
Grill accessories are a good gift, especially ones you can use both at the campground and in the backyard. CharBroil's Grill+ Accessory System ($5.99 – $29.99) includes cutting board, and other items to help prep, roast, bake, steam, and smoke that food.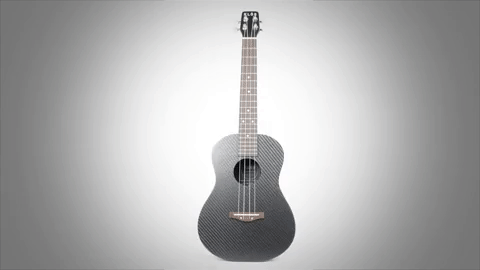 If Dad's a picker and a grinner, consider getting him a KLOS carbon fiber travel ukulele ($439); these tenor ukes are still in pre-order mode, but promise to be a burly addition to your camping gear — or strapped to a backpack. The company got started with carbon fiber travel guitars ($599) which are available now. Their website has videos of people running over these indestructible instruments with their cars. Check out this related article on "The Best Carbon Fiber Guitar."
TRAVEL BAGS AND PACKS
If Dad is a bike commuter (or expeditioner), rig up his ride with this McKenzie handlebar drybag ($129, pictured above), a made-in-the-USA, 100% waterproof (and 100% submersible) front bag. This company has a whole line of military-grade dry bags for more serious water-based expeditioning as well.
Eagle Creek just partnered with National Geographic Society (NGS) to create a National Geographic-branded Guide Series ($199-$499) of travel bags, built for "dirty, heavy trekking with gear and instrumentation, both photographic and scientific." The bags are being billed as "mobile base camps" and 27% of proceeds go to the nonprofit NGS to support their work.
For car-camping, I like a rugged carry-on better than a top-loading backpack. This hardshell 90Fun Passport Carry-On ($129) is a good choice for upgrading Dad's bag, man. It holds 43-liters and weighs less than 8 pounds. The compartments let him separate his dirty socks from the clean stuff, and also organize all his gadgets and laptop in a front-loading, lockable pocket. It's made of a crush-proof material with a scratch-proof poly-carbonate film.
Gregory has been my go-to backcountry backpack maker for decades. Now that they've gotten into the luggage game, their Divide Travel bags are another good crossover line that work well both in airports and also car camping. Specifically, the Quadro 4X4 Hardcase Roller ($169.95) has odor-protective compartments inside to separate the nasties from the clean clothes, and also a pocket for shoes.
CLOTHING & APPAREL
Let's start with the hands: Soundtouch All-Weather Gloves ($39.99) are suave and warm; they are mid-weight, windproof, water-resistant and have a wicking fleece liner. They also have touchscreen ability and slightly grippy palms. I use them both to carry my briefcase and to go spring skiing.
Get Dad some Ellume-polarized Matte Smoke Inclines ($149) and watch him go from zero to cool in two seconds. Boulder-based Zeal Optics makes entirely plastic-free, plant-based shades and ski goggles, including with prescription lenses. The lightweight Z-Resin frame is made from plant resin, with rubber on the nose and temple tips.
Heading downtown, the SAXX Vibe 2-pack ($56.95) is a perfect intro to SAXX's potentially life-changing, patented "BallPark Pouch" underwear technology. They describes their innovation as a "3D hammock-shaped pouch designed to keep everything in place," using mesh panels and special seams. The material is made from wicking viscose fabric (95%) and "a splash of spandex," and the underwear comes in fishing prints and outdoor patterns for Father's Day. Smartwool makes a similar style-the Micro Stripe Boxer Brief ($45)-with a front pouch, a wide elastic waistband, and made from an "ultra-soft" Merino 150 wool blend.
Mountain Khakis Original Mountain Pant ($89.95) are made of 100% organic cotton in a dense, durable "2×2 weave" that resists abrasion and is semi wind- and water-repellant. They come in both relaxed and slim fits.
I like pants that are as comfortable and stretchy as sweat pants, but disguise themselves as something else. DUER No Sweats ($129) come in a huge variety of colors and also shorts. Just be prepared: Dad may move into these pants and never move out.
Shorts that double as a bathing suit are handy when camping near a river or lake, like this commission short swim ($88), a durable, stretchy, and water-repellent short from lululemon, with a secure back pocket and front pockets lined with quick-drying mesh.
For an old-school fisherman style, get Dad this Ahi Long-Sleeve Shirt ($60) from Eddie Bauer, made of wicking, breathable polyester with UPF 50+ sun protection. These Hardvark "stretch merino pique" Polo shirts ($140) are another more traditional option, with the added advantage of breathable, lightweight merino wool for the summer (a new trend, see below).
For boots, Danner's keep getting lighter and tougher. This Mountain 600 EnduroWeave high hiking boot ($160) will inspire Dad to hit the trail and maybe take you along. They come in abrasion-resistant brown or black uppers, have removable footbeds for cushioning and air circulation, and the soles are thick and super grippy.
For that outer layer, check out this jacket Outside Magazine called "The Holy Grail of Waterproof Jackets": Outdoor Research Interstellar Jacket ($299) is lightweight (the men's large is 11.6 ounces), breathable, air permeable, fully waterproof, soft to the touch, quiet, and stretchy. It has a newfangled 3-layer, "electrospun membrane" fabric that combines the qualities of both a hard shell and a soft shell. Also multiple pockets, helmet-compatible hood, and it bunches up smaller than a water bottle.
Merino Wool
If there were any trends in this year's Father's Day new camping gear selections, it's Merino. Everyone's got some patented stretchy-thin, technical merino blend that's not just for winter anymore. It's a myth, they say, that wool has to be bulky or itchy and they offer the following products to prove it.
Smartwool makes a combination Merino and Gotland wool slipper with rubber or calfskin soles called the Glerups Open Heel ($135). Tell Dad they're for camping, but he's allowed to try them out around the house.
For a simple Merino T-Shirt, the TREW Superlight NuYarn Pocket T ($69) comes in earthy colors and has a different textured breast pocket. It's 85% Merino wool and 15% nylon. Another smooth-to-the-touch short-sleeve is the Metal Vent Tech Surge ($78) from lululemon, part of their City Sweat Collection. It's sweat-wicking, stretchy, breathable, and treated with anti-bacterial/anti-odor technology.
Showers Pass's Trailhead Bamboo-Merino sweatshirt ($125) totally dispels the itchy myth. Its 50/50 Bamboo-Merino "tech fabric" is one of the smoothest materials I've ever felt and has served me well in extremely varying spring mountain weather conditions.
Speaking of odors, Mountain Standard's soft Merino wool blend camp socks ($14) does all that and more for your feet. Warm in the winter, wicking and cooling in the summer. They feature old-school olive green camp colors with red heels and toes.
BONUS GEAR! A few more gift ideas that have come to my attention:
SNACKS & BEVERAGES
Instead of traditional, tough, chewy beef jerky, New Primal Sea Salt Beef Thins (available in Whole Foods as of June, 2018) are thinner and crispier, made from 100% grass-fed, grass-finished beef, and each serving has less than 100 calories and about 13g of protein. There's no soy, refined sugars, hormones or antibiotics, and they other snacks for kids.
I haven't tried Run Gum ($22.49 a box) on the trail or bike yet, but this caffeinated gum was very helpful during my last book deadline. I'm sure your Dad can find a use for it too. Contains zero sugar or calories and has added vitamins. Try the extra-strength formula with double the caffeine (100 milligrams) in each piece, equivalent to about a cup of coffee. It comes in cinnamon, mint, and fruit flavors.
For a burly Dad, you really can't go wrong with Man Crates. They offer many, many options of masculine gift packages delivered in a wooden crate with a crowbar attached, but if Dad is a Bloody Mary guy, have them ship him this Ernest Hemingway-inspired Storied Sunrise Cocktail Crate ($99.99), which includes, among many other items, a hearty Bloody Mary mix and a copy of The Sun Also Rises.
For a classy whiskey gift, try the 10-year Egan's Irish Whiskey ($49.99, get it at http://incrediblewinestore.com/). They are a fourth generation, family-owned and operated whiskey brand with a nice selection of other aged bottles as well. .
FOR HIS PHONE
The Piggy Pro Phone Stand ($16.99) is a low-cost gift, that's handy during travel. They make a $1.99 version too, the Original Piggy Phone Stand, which may be more your Dad's style.
To class up Dad's phone, check out the Leather Wallet Case ($45) from Mujjo, for the latest sized iPhones and Galaxy S9. The full-grain vegetable tanned leather is crafted with a micro-liner in a slim design with rounded corners and pockets for a few cards.
Another great phone-related gift idea is an all-wood Toast custom phone cover ($59). They have some of their own slick designs, or submit your own logos or design for Dad. Their covers are made to fit all iPhones and Samsung Galaxy S9; some of the designs incorporate silver, gold and copper metallic inlays.
MORE DAD GIFTS & GADGETS
DooDooJuice ($8.99 for 2 oz spray bottle) is a fresh-smelling citrus spray made of essential oils that neutralizes "even the worst bathroom odors." It's a pretty obvious idea, but the novelty of getting to say "DooDooJuice" over and over again is more fun than you might expect. It's good for home, but can also work in a nasty campground bathroom, or on-board RV toilet.
For an all-in-one powerful Bluetooth speaker, FM Tuner, or Aux-in speaker, this Kicker Bullfrog BF200 ($299.95) is a possible game-change for the tailgate, campsite, or impromptu house party. It boasts 20 hours of battery charge; you can power it up and crank the volume, and browse the FM dial, right from your phone. It's built to resist rain, dust, dirt, snow, and mud, and weighs 5 lbs. They make bigger and smaller versions.
For the dad that doesn't go overly crazy about tech, or is a fan of tech but also loves him some tabletop games for a fun night-in, consider gifting him a pack of classic cards or games from the likes of Wizards of the Coast. If you are a D&D or Magic enthusiast, then you'll definitely find joy in introducing these to your dad, if he's not already familiar with them. Such gifts can also be a great bonding tool for the whole family (and friends too!) to play together and push the boundaries of imagination; and it works pretty well when you go camping and want ideas for a group game too.
How about a smart padlock that doesn't require a combination? Tapplock ($84) works via Bluetooth and phone app, opens with your finger or thumb print (it can store up to 500 fingerprints), and can be used for his bike, gym locker, gear shed, or gun cabinet. You can actually unlock it remotely if you're traveling and want to give someone access to your stuff. Also, if your dad is very picky about his gun safety, then you might want to check out few quick access gun safes here!
And, of course, you can't go wrong with tools. Or tool organizers. ACE Hardware has some pretty big Father's Day deals going on from June 6-18, 2018. Get Dad something small and practical, like an Etape Digital Tape measure ($29.99), or step it up with this burly metal Craftsman 6 drawer Top Tool Chest ($299.99). It's 24.5 inches high, 41″ long, and 16″ deep, and holds up to 1000 pounds. It has a large tool compartment and six drawers and will help him consolidate.
Here's a neat gift idea: the KODAK SCANZA digital film and slide scanner to help Dad digitize and optimize 35mm, 126, 110, Super 8 and 8mm film negatives and slides into optimized 14-megapixel or interpolated 22-megapixel digital files. The unit comes with various film adapters and inserts, an LCD color display, necessary cables.
Another slightly retro gift, the Kodak Mini Shot has a built-in refillable cartridge that makes 2.1″ x 3.4″ (credit card size) color prints in seconds. The onboard 10-megapixel camera has edit and color controls, filter effects, Bluetooth connectivity and a small LCD screen.
A nice gift to supplement Dad's latest iPhone, the iHome iBN350 ($129.99) is a dual alarm clock with Qi charging and Bluetooth audio streaming capabilities. It works with iPhone 8 and X, streams audio wirelessly, and has built-in mic, speakerphone, and a Qi-certified wireless charging pad on cabinet top to charge compatible devices. Bring it on your trip, does not require Wi-Fi.
And, finally, let's wrap it up with a Light Up Bath Time With The Unicorn Duck ($12.95), because why not? It flashes through a rainbow of colors and makes a fun gift any time of the year.
-Joshua Berman is the author of Moon Colorado Camping: The Complete Guide to Tent and RV Camping and is a monthly travel columnist for The Denver Post. His website is http://joshuaberman.net/ and he is on Twitter at @tranquilotravel
Note: The author received product samples from some of the companies listed above, for review and photography purposes. He was not paid by anyone was mentioned in this article. It is a personal review. Opinions are all his own.