35 Tranquilo Gift Ideas for People who Like to go Camping
By Joshua Berman
This summer, as I've been researching and writing the new edition of my book, MOON COLORADO CAMPING (6th edition coming in Spring, 2020, people!) and writing camping articles for The Denver Post, Elevation Outdoors, and other publications, some interesting gear items have found their way across my desk. 35 interesting items, to be specific. These are products I'm either trying out this season (or waiting to field test—I haven't gone camping as much as I'd planned). Enjoy:
At the Campsite 
I'm getting ready to shift my kids from front-country car camping into the backcountry. That means thinking about weight and compactness in every aspect of our gear. Starting in the kitchen, we're trying Pinnacle Camper Cook Set for 4 ($139.95, pictured above), which comes with a simple selection of pots, strainer lids, a 9″ Fry Pan, mugs, bowls, plates, and a few other accessories.
Though it adds some weight, I'm also checking out this ECO Adventure Kit ($44), essentially a stainless-steel stacking container with three separate compartments for food, a stainless-steel clamping pot-grip handle, and a compact stainless-steel spork. You can actually cook food in the stacking containers over a propane flame or cook three dishes at once inside a Dutch Oven.
For sleeping bags this season, I'm in a super-soft, 3-season Cotopaxi Sueno sleeping bag ($350), with 800-fill RDS-certified duck down, rated at 15-degrees Fahrenheit. It's a mummy shape with a "tall footbox," is made of 20D nylon, and has an integrated pillow pocket for headspace. It's warm, efficient, cozy, and, at 2lb 13oz, extremely packable. 
Shelter: We used to camp with our 5-person family in a massive, 2-room tent with a vestibule, but now it's all about simplicity. Our backcountry forays will just be me and my elder daughters, so we'll be taking this Mountainsmith Mountain Tipi Tent ($249.95). It sets up with one adjustable aluminum pole and sleeps two. The kids will sleep in the Tipi Tent, and I plan to post up in this 5.6-oz. Roo Single UL hammock ($89); it's thin but holds up to 300 lbs. and claims to have the highest "weight to strength ratio" on the market. For the whole package, throw in some Python straps (under 3 oz., $35), and 13.8 oz Kuhli UL weather shelter ($129), which can be used as a kitchen or sleeping tarp. For our regular kitchen/camp tarp, I'm looking at Mountainsmith's Mountain Shade Tarp ($59.95), a 12' x 12'  versatile tarp, which can be suspended from trees, set up with trekking poles, or used for a sleep shelter. 
I'm sitting in my The Helinox Savanna Chair ($200), commanding the campsite. Coffee in hand, I sink into the chair's deep, wide seat and appreciate its winged arm rests and cup holder as I bark orders about not running near the fire and "leave your sister alone!" These chairs are made with aluminum poles that fold up into a neat little carrying kit that's pretty lightweight. Its not quite small enough to schlepp into the backcountry, but for car camping, barbecues, and even my deck at home, this is the new Captain's Chair.
Here's a handy, bear-tested food storage item: Smelly-Proof Heavy Duty storage bags (from $12.99)  are thick, plastic, sealable bags that come in a range of sizes. They are made in the U.S.A., and in addition to food, can be used for electronic gear, dry matches and firestarters, etc. 
I've always loved my Dr. Bronner's, so I was happy to try out a new, local Castile soap: Alpine Provision Castile Soap ($12) is made of organic olive and coconut oils and organic Essential Oil aromatherapy blends, and is 100% biodegradable. "The scents are all based around being in the woods, being in the wild, being with nature, camping, chopping wood, sitting by a campfire," says found Josh Onysko. 
Bottles and Cans. And Steaks and Grills 
Water bottle: Purist bottles (from $40) blend glassware and insulated stainless steel for maximum efficiency. Their goal is being able to go "from coffee to water to Kombucha to beer and back again" without any unwanted residual flavors. They keep hot drinks hot for 12 hours and ice stays frozen for up to 24 hours, and they come in 10oz, 18oz, and 32oz sizes.
Wine and cider in a can? For camping, heck yes! Especially when we've got Infinite Monkey Theorem right in our backyard in Denver. They're an urban winery with taprooms in RiNo, the Stanley Marketplace in Stapleton, and one in Fort Collins. Since this is a camping article, let's focus on a drink they released this season: C.A.M.P. cider (6-pack $14.99) stands for "cinnamon apple maple pear" and you'll indeed hit all those flavor notes. 
For spirits, Cowboy Country Distilling is based in the mountains outside of Pinedale in Southwest Wyoming. They use local ingredients in most of their product line, which includes Brown Mule Gin, Silver Spur Vodka, Silver Spur Jalapeno & Bacon Vodka, Rooster Rum, Red Roan Raspberry Cordial, and their classic Gold Spur Special Reserve Corn Whiskey, the official whiskey of the Wyoming Cowboy Hall of Fame. 
This was originally supposed to be a Father's Day article, but really, Dad could use a steak any time of year. Enter the Holy Grail Steak Co. — they will ship a dry ice-cooled cut of genuine Kobe beef, Upper USDA Prime steaks, or rare cuts of Japanese Wagyu. How would your dad react to a cut of Hokkaido "Snow Beef" from Chateau Uenae, "the rarest steak in the world, as only one to two cattle per month qualify for this designation" ($199 for a 12-14oz. Ribeye)? All Holy Grail Japanese Wagyu steaks are A5-grade, the highest classification, based on marbling, color, texture, and quality of fat.
Though you'll
probably want to pan-sear those fancy steaks, you may also want to consider this compact Mr. Steak Infrared Portable Grill ($229.99), which can be used on the back of your truck, on top of your picnic table, or your porch at home. These grills use use "the same technology used by steakhouses" to maximize your outdoor cooking game. It puts out 14,000 BTUs of cooking power from a ceramic infrared burner which sears in the flavor of the meat with super-high heat.  It has electronic ignition for fast lighting, a removable grease tray, and runs off a 1 lb. propane cylinder.
Gadgets, Speakers, Watches
A smaller, more lightweight option, is this Tiki Tunes Wireless Speaker ($39.99), a 5-Watt speaker with a range of about 30 feet and 6-hour battery time; it's perfect for a small deck or porch barbecue scenario and has a fun, fake fire-flickering effect. My kids also love it in their room (or in the tent!) for story time or mellow sleep tunes.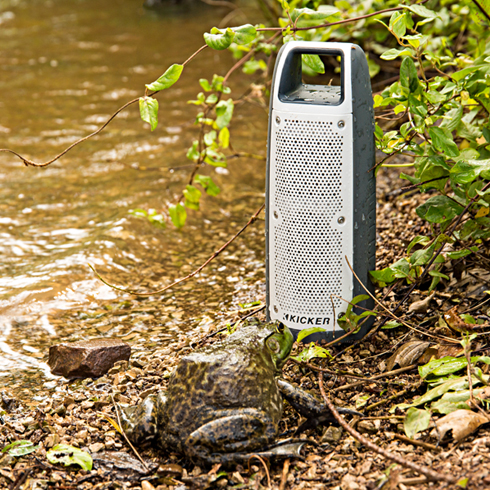 Another option is the Kicker Bullfrog BF100 ($199.95). It is, by far, one of the burliest outdoor Bluetooth speakers I've seen (and heard). I like the BF100, their smallest speaker; it's about the size of a water bottle, puts out 16 watts of sound, and has speakers on both sides. The Bluetooth range is an impressive 100ft and its 12 hours of battery charge lets these things kick all day—and you can charge your phone or other devices with it while you're rocking out. They also float in water, and can pair with other Bullfrog speakers for surround sound.
For that middle-ground, nuts-and-bolts Smartwatch that covers fitness basics, GPS, and time telling, I found the MATRIX PowerWatch (from $399). It has a heart rate monitor, always-on onboard GPS, and mapping functions, so you can leave your phone at home during your run or hike and still track everything. The big news is that MATRIX watches are powered by body heat and the sun, and (they claim, I just began testing) never need to be charged. The watch can integrate with Apple HealthKit, Google Fit, and other third-party apps, is water resistant up to 200m, and has basic phone pairing, metrics and activity tracking features. Their Powerwatch 2.0 ships in September, 2019.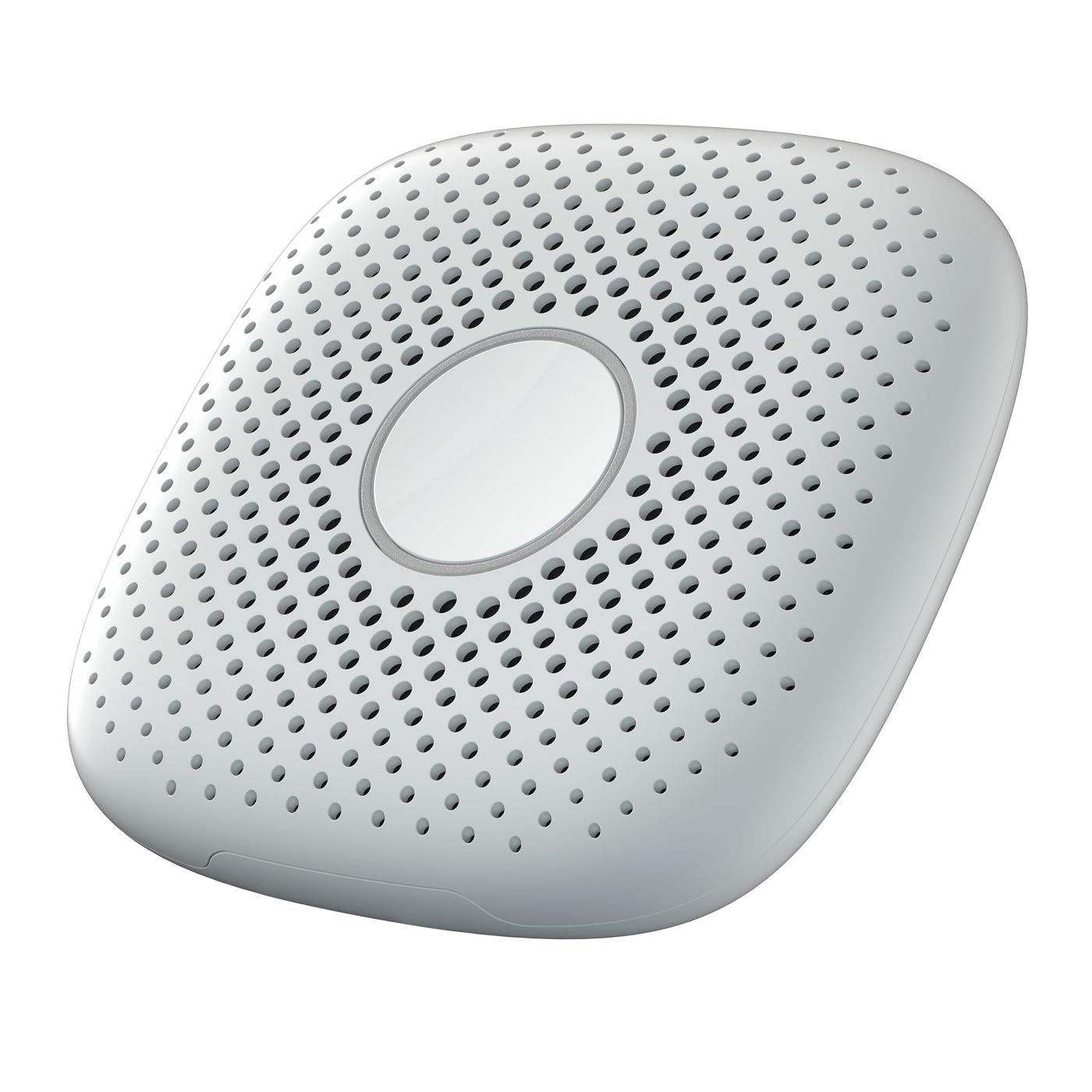 This is a very cool device, and one I was specifically waiting for. Relay ($49, buy it at Amazon or Target) is a nice solution to being able to maintain communication with your kids without buying them a phone. It is, as they put it, "a screen-free smartphone alternative that is as easy to use as a walkie-talkie but with nationwide coverage." The devices are small and have a simple design—a button on a flat speaker—and basically work like an intercom, in conjunction with at least one cell phone. I give one to my older daughters when I need to run out, or when we go to an event and I want her to have it in case we get separated. It can also be useful if you get split up in the outdoors, and can be networked with other Relay devices and the app. Relay works over 4G LTE and Wi-Fi, so it has unlimited range and works everywhere a phone does. It also has GPS tracking, SOS Emergency Alerts, and voice messaging.
On to phone accessories: 
Lander's Torrey phone cases ($39.99) have Thermoline heat or cold resistant lining which helps regulate and insulate against extreme temperatures. It works nearly all of the time—the only day I had trouble was pushing its temperature limits on a zero-degree powder day at Taos Ski Valley. The case also has a detachable lanyard for additional security (don't drop your phone off the chair lift!) and pops off and on easily for cleaning. 
Manly Apparel and Accessories:
Beginning at the core, this Northmar Vest from Mission Workshop ($325) is a high-end, midweight, insulated vest that works equally well for traveling or commuting—or hiking, climbing, skiing, or cycling, for that matter. Comes in black only, with a matte finish and several handy pockets. This vest feels tailored, even over my, um, slightly rounded torso. 
Any of the bathroom-related kits from Manscaped would make a great gift, especially their Perfect Package Kit ($74.99), pictured above, with instruments and lotions to maintain all the main manly parts. Includes a safety razor ("the plow"), electric trimmer ("the lawnmower"), and several refreshing sprays and anti-chafing ball deodorants ("crop reviver and preserver"). Or instead of the whole package, buy him some of Manscaped's Refined cologne ($39.99), "a light, yet masculine" scent that has a really pleasant touch of pine and woods to it. 

Stretchy new underwear is always a crowd-pleaser. Mountain Khakis released Bison Boxers and Bison Boxer Briefs ($25.95) this summer season. They're lightweight, breathable, quick-dry enhanced, and feature a special Alpine Mesh that "keeps everything cool and dry." They come in five signature solid colors and two custom camo prints for your wild side. Eddie Bauer is another safe bet for gifts: I especially like their Guide Pro pants ($56) which are very versatile for travel or the outdoors; and also this Amphib Long Sleeve ($42), a comfy sun shirt for the pool or hot springs. For a shell, their BC Sandstone Stretch ($209.30) is a solid, waterproof, 3-layer wind/rain soft shell, designed for cool spring or fall rains. 
There are sun hats. And there are Alchemi Labs hats ($32–39), which use NASA spacesuit-inspired "radiant barrier technology" to block and reflect skin-damaging UV rays.  There are five unisex sstyles: the River Hat, Expedition Hat, Desert Hat, Sun Cap and the Bucket Hat, which cover the gamut of most extreme outdoor activities and many styles.
This past summer, DUER came out with The Weightless Denim ($129), which they're calling "the world's lightest denim that doesn't sacrifice style." I'd have to agree. They are indeed breathable, stretchy, and comfortable,  and I find myself wearing them in temperatures that would be too hot for normal denim. They come in straight fit or slim styles.
The Bag, Man
For a bigger occasion, luggage is always a solid gift. I always look for a crossover bag that would work equally well on an airplane, road trip, or car camping adventure. The upgraded Eagle Creek Gear Warrior Wheeled Duffel Carry ($249) fits these specs, and it is made of 100% Recycled PET fabric to boot. The Gear Warrior carries 39 (expandable to 42) liters, has large treaded wheels designed to take curbs and cobblestones, and has hardcore zippers and handles. You can also package it with a compression packing cube set which they are currently offering free with your purchase as a seasonal promo.
Bike Gear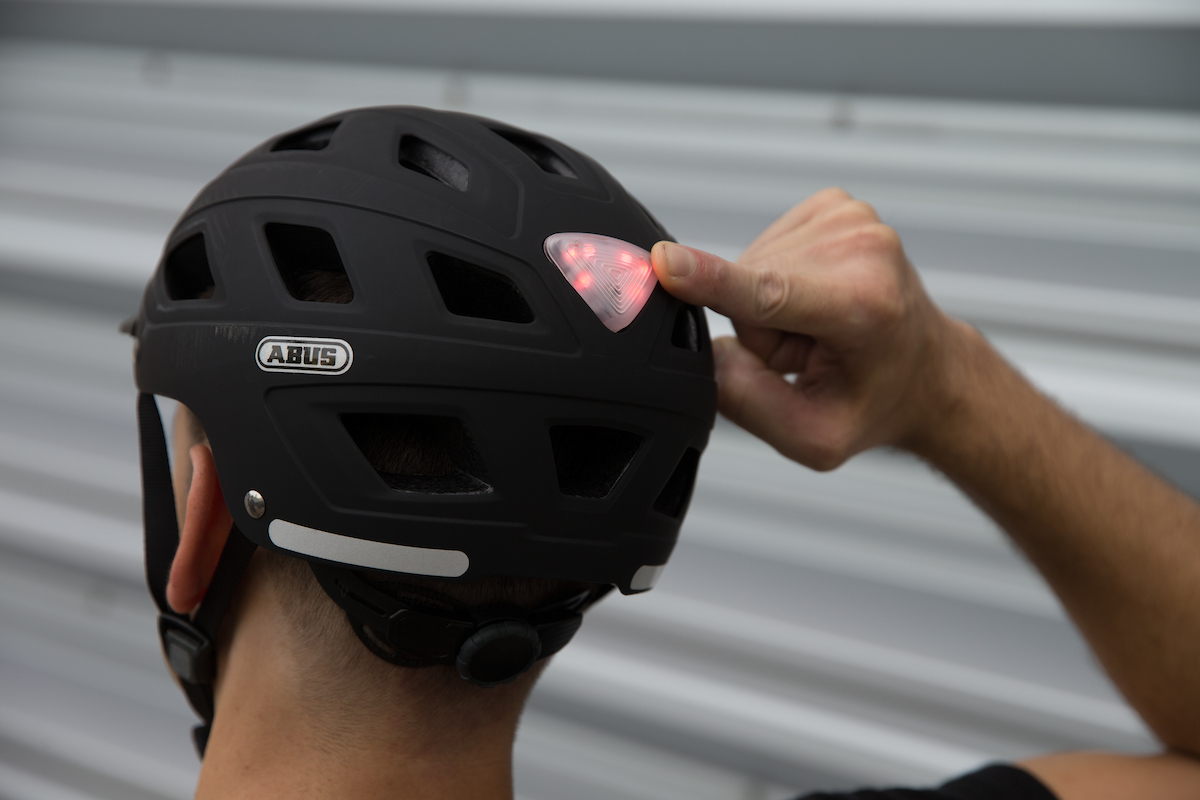 The ABUS Hyban Helmet ($69) are strong and lightweight, in part due to the 18 air vents which funnel cool air over your hair. It has an integrated LED light on the back, which can shine or blink, plus a  rain cover and magnetic chin strap. Definitely a solid commuter helmet. 
The same company makes the ABUS Mini 410  U-Lock ($34.99), made of temper-hardened steel with "through-body shackle technology." It is a solid, strong-looking lock that would deter most would-be thieves. 
If, however, you're not into a heavy-ish, slightly awkward U-lock, check out this OTTO DesignWorks Hexband cinch lock ($65-95), made of stainless steel bands with Kevlar layers; it's a useful lock option for most short stopovers and comes in 18", 30", and 60" lengths. It has a simple combination lock and can be used to protect all kinds of outdoor gear in addition to your bike. 
RELATED ARTICLES: