This article first appeared in the July/Aug 2020 edition of AAA Encompass Colorado
Editor's Note: This article was written based on the author's experiences prior to the pandemic. Some of the lodgings, restaurants, and activities described in this article may be limited today. If you visit, please follow local, state, and federal safety protocols and social distancing practices to keep yourself and others protected.
All roads to Crested Butte, Gunnison, and the rest of West Central Colorado are as stunning and scenic as they come, passing over multiple high passes and through broad valleys. On our family's last trip to the region, we entered from the southwest, via the Million Dollar Highway (U.S. Highway 550) through Ouray, Ridgway, and Montrose.
As we neared the end of our month-long road trip across Colorado, I couldn't resist routing the final leg of our odyssey through Black Canyon, Gunny, and the Butte—all in this tucked-away sweet spot of the state that's just as perfect for a three-day getaway.
We stopped for firewood and food in Montrose, then, 20 minutes later, we pulled into the gates of the Black Canyon for our camping adventure.
DAY 1
Upgraded to National Park status in 1999, Black Canyon of the Gunnison is a stark, 45-mile long gash through some of the oldest rock on the planet, carved by rushing snowmelt of the Gunnison River, which descends 43 feet per mile through the canyon (five times steeper than the Colorado River's drop through the Grand Canyon). Yet, it remains the least visited national park in the state.
During a flaming sunset, we set up our tent in the South Rim campground, our walk-in tent site shrouded by Gambel oak and serviceberry bushes. The next morning, our minivan cruised the out-and-back scenic South Rim Road. We stopped at each vista point, where our oldest daughters jumped out of the car to work on their Junior Ranger booklets—educational lesson guides that can be found in nearly every national park and monument; they turned each vista point visit into a scavenger hunt or art class—2,000 feet above the Gunnison River. The girls had to search for and identify various animal and plant species, and at one panoramic overlook, sit quietly and sketch the scene.
Since there are no bridges across any part of the canyon, the only way around to the North Rim is a two- to three-hour drive. If you've got the time, bring plenty of water, go slowly, and enjoy the remoteness and additional overlook spots. At the North Rim campground, the stargazing is legendary. The entire park is designated an international "Dark Sky Park"; ask about ranger-led astronomy programs. With fewer fellow campers on the North Rim to flood your peripheral vision with their headlamps and campfires, it's quite dark indeed. Plus, in the morning, you can lace up your boots and try one of several steep and rugged hiking trails, including the longest trail in the park, North Vista—a 7-mile, round trip hike from the North Rim campground to Exclamation Point and Green.
If you'd rather fly fish in Gold Medal trout waters, head for the upper Gunnison and call a local guide, most of whom are based in nearby Gunnison, Montrose, and Ridgway, and offer customized trips like float fishing in the Gunnison Canyon with RIGS Fly Shop in Ridgway. For rock climbing, hiking, or other adventures in the area, Peak Mountain Guides (also in Ridgway) can help.
If you don't want to camp, there are other lodging options in and around the Montrose area, including the Country Lodge—a cozy option with a Western theme close to the park; the Agape Farm and Retreat in Paonia is a bed and breakfast with an attached farm and vineyard; and the Lodge at Needle Rock in Crawford is a more upscale property about 15 miles from the park's east entrance. For dining in Montrose, consider Colorado Boy Pizza, Horsefly Brewery, Camp Robber, and Remington's at the Bridges.
Before leaving the National Park, we stopped by the Visitor Center to turn in our Junior Ranger booklets. They made a big deal of it—one of the rangers did a whole presentation to my children, swearing them in and awarding them their official badges. They were beaming as we left the park, turning left onto U.S. Highway 50, and heading 60 miles east to our next destination—Gunnison.
Day 2
Gunnison is one of those outdoor-loving gateway towns that secretly knows it is the cooler, more genuine article than any other town in the area—especially when it comes to mountain biking. Already famous for the 40 miles of singletrack trails in the Hartman Rocks Recreation Area, which caters to all levels of bikers, Gunnison will soon boast another 28 miles of trail system, Signal Peak, bringing the Gunnison Valley's total to 750 miles of mountain bike potential. The CBGTrails app is a useful resource for all area trails, and Double Shot Cyclery is the spot for bike rentals, gear, and guides, as well as getting some pre- or post-trip coffee drinks.
On this trip, our kids were too small for singletrack, but they were the perfect age to splash around on the edge of the Gunnison Whitewater Park, a man-made rapids where carefully placed boulders and rocks create a variety of holes, eddies, and waves in which kayakers like to play. This is another reason people travel to this region—to spend time on the water, and Gunnison is an ideal place to start. You can rent kayaks from Scenic River Tours or sign up for one of their whitewater rafting or float-fishing trips on the Taylor and Gunnison Rivers. When the water goes down in late summer, tubing on the river is another great experience.
We stayed on the shore, watched a few boaters float by, then retreated directly across the street to our room and the green, shaded lawns at Island Acres Resort Motel. Yes, after a few weeks on the road, much of it sleeping in a family tent, our primary goal in Gunnison was to take a load off, see the town, and grab a few nice meals. The rooms at Island Acres have full kitchens, making them a popular basecamp for families who like to cook, but we were ready for a restaurant.
We drove into town and quickly stumbled upon the AAA-approved El Paraiso Family Mexican Restaurant, where the chile rellenos were perfectly crispy under their smothering of sauce, and where they served up a combo of cocktails and kids' coloring pages that kept everyone happy for a while. As we walked around the wide streets of downtown after lunch, people recommended a few other restaurants, notably High Alpine Brewing Company for beer and brick oven pizza and the AAA-approved Twisted Fork Restaurant for Asian-inspired dishes like lettuce wraps, braised pork sliders, and ahi tuna tacos. We also spotted Firebrand Delicatessen on Main St., and ducked in for cookies. This, we'd been told, is where many travelers head each morning to stock up on sandwiches for their day's adventure.
It was too cloudy to see anything through the 30-inch telescope at the Gunnison Valley Observatory, which takes advantage of the region's clear, dark skies. And though things were hopping (no pun intended) at a few breweries in town, we returned to the motel, read some stories, and hit the sack early.
DAY 3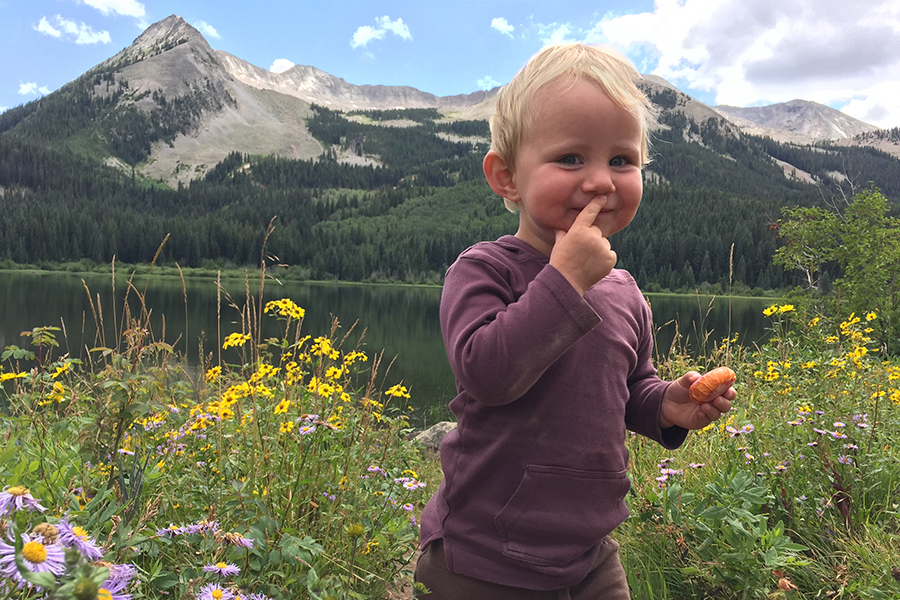 Enjoying an alpine picnic at the Lost Lake Campground against the backdrop of the Beckwith Mountains. © Joshua Berman
The next day, we headed north out of Gunnison on Highway 135, following horse ranches and the river all the way to Crested Butte—a 19th-century coal mining town turned ski resort. Sitting pretty at about 9,000 feet elevation, Crested Butte is surrounded by some of the most remarkable Rocky Mountain scenery in the state.
Our plan was to enjoy the relaxed, old-timey downtown, check out the adventure park by the ski area, and to take a scenic drive over Kebler Pass to Lost Lake Campground for a high-alpine picnic. With only 24 hours, we hadn't wanted to plan more than that, even though there were plenty of possibilities, including the Rocky Mountain Biological Laboratory, four miles outside of Crested Butte in Gothic, where scientists do high-alpine research and families can participate in the nature, kids, and science programs. This year, the Crested Butte Center for the Arts,  opened to great acclaim with an array of exhibits and activities planned for the summer, but their 2020 schedule is severely cut back due to COVID-19.
There are several really interesting places to stay in Crested Butte, including the Sopris House, a small, upscale lodge in an 1882 building, whose king rooms have outdoor copper tubs and plunge pools; or the Public House Lofts, well-appointed, musically themed rooms atop a popular bar and tap room. If you want to stay closer to the lifts and trails, try the AAA Three Diamond-designated The Lodge at Mountaineer Square, a larger property just up the road near Mt. Crested Butte, with rooms from king to a four-bedroom condo, and an array of amenities (restaurants, a fitness center, and outdoor pools and hot tubs); or the warm and welcoming, AAA Three Diamond-designated Elevation Hotel & Spa.
After settling in, we grabbed sandwiches and other picnic supplies at Butte Bagels, then got back in the car and headed farther into the mountains. We drove west along County Road 12, following Coal Creek past Lake Irwin and into the national forest, where you'll find one of the world's largest aspen groves. It's hard to overstate the beauty of the Kebler Pass drive at any time of year, but especially late summer when the leaves were about to change, and on some curves in the road, the trees formed a crazily sunlit tunnel. At Lost Lake, a campground in the Gunnison National Forest, we sat amid a fantastic blanket of wildflowers, while enjoying a late lunch and view of the Beckwith Range reflected in the water.
Of Crested Butte's many outdoor-related obsessions and attractions, wildflowers are one its most alluring. Wildflowers bloom at different times of the season, depending on micro-climates and altitude, but in general, everything peaks in mid-July. This year, the 33rd Annual Wildflower Festival (July 10-19), a Crested Butte tradition, will have a pandemic-adapted schedule, meaning instead of hundreds of events and activities, they will offer only those made for eight or fewer participants, do not require catering, and take place outside. The smaller-scale festival will still offer flower-themed art and photography classes, as well as guided wildflower ID walks.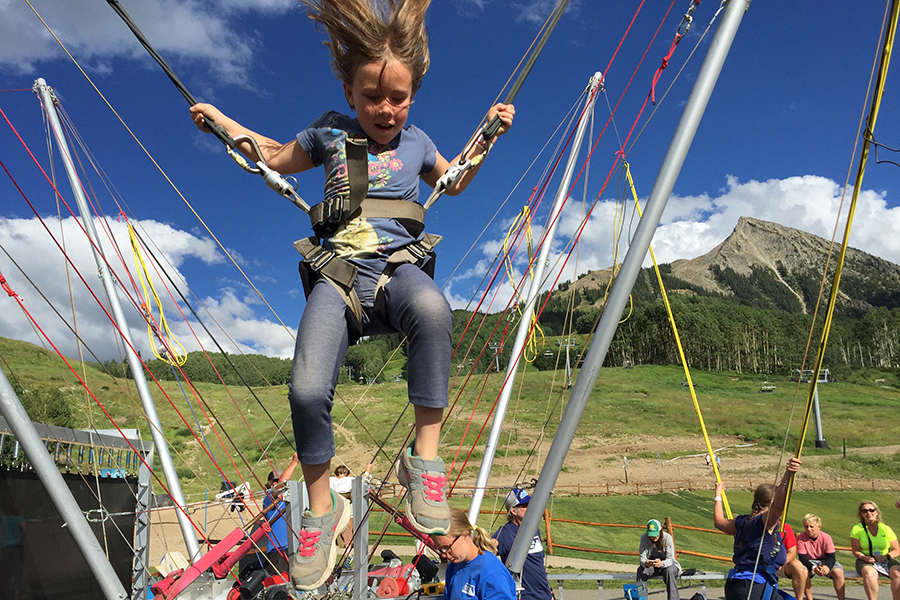 Kids of all ages love to jump on the Bungy Jump Trampoline at the Crested Butte Adventure Park. © Joshua Berman
After our drive, we beelined for the Adventure Park, a carnival-like feature at most Colorado ski areas in the summer, where my kids could have jumped all day on the bungy trampoline. Afterward, in Crested Butte proper, we strolled the streets looking for a tasty treat, settling on Third Bowl Homemade Ice Cream, but it was a tough choice between that and Niki's Mini Donuts.
Crested Butte's dining scene includes international fare, brick oven pizza places, and a few family Mexican joints. There's also the AAA-approved Secret Stash/Bonez, a tequila bar and grill whose appetizers, pasta bowls, and gourmet pizzas are especially popular at happy hour, and whose owners also distill rum at the AAA-approved Montanyas Distillers Restaurant, just up Elk Ave. The Secret Stash staff have been especially important to the Crested Butte community during this COVID-19 crisis by donating food, feeding community members, and hosting free farmers markets.
In the morning, we'd travel east again, over Monarch Pass and out of Gunnison County. But as we were walking back for the night, the day's final rays began to fade across the valley and behind Mount Crested Butte, and we stopped discussing our plans, or anything else, and just watched…marveling in the beauty of this region of the state.
More "Three Days In"
Watch your inbox for more things to do in West Central Colorado in the next EnCompass Exclusive e-newsletter—a monthly email that provides exclusive content you won't find in the print edition. Plus, keep an eye out for the next series of "Three Days In" in the September/October 2020 edition of EnCompass.