Don't worry if you didn't know what a "zinester" is—they make zines, which are quaint ink-and-paper affairs or, in Ayun Halliday's words, "self-published labors of love." Ayun is the author of No Touch Monkey! And Other Travel Lessons Learned Too Late, a bunch of other books, and, of course, a zine, the "East Village Inky". Her newest book, The Zinester's Guide to NYC, which is not self-published ("no way could I even begin to handle the graphics," Ayun said), was released this year by Microcosm. And apparently, even if you never heard of them, when zinesters put their heads together to show you their favorite nooks and crannies of the five Burroughs, the result is a guidebook unlike any other.
It is a collaborative effort by many interesting, funny people who's voices and personalities come through in their write-ups of sushi bars, movie theaters, volunteer opportunities, open mics, and the best subways in which to listen to music. It's a guidebook that flows, with fun illustrations and unexpected listings on every page. Stephen Colbert says ZG2NYC "kicks ass" and Rolf Potts calls it "the travel equivalent of a lovingly assembled mix-tape."
If you are truly a novice exploring NYC, you'll need a companion map, since ZG2NYC basically just tells you to find the nearest subway entrance for a neighborhood map—good advice, but you still need a map. I recommend the "My New York à  la Carte" Map; its watercolor illustrations and hand-written tips are a perfect pairing for Halliday's chatty-yet-stylish guidebook.
I'm honored to have Ayun belly-up to the Tranquilo Traveler cafe:
Joshua Berman: Why a guidebook? Most guidebook writers I know (and by "most" I mean "me") are trying to go in the opposite direction, doing less guidebook writing and more narrative writing? Which one of us is going backwards?
Ayun Halliday: If there's ever any question as to which of two people is bass backwards, trust me, the answer will always be me. It sounds like your approach was journalistic, whereas mine was writing about my traveling misadventures as a way to not get pegged as someone who only wrote about 'parenting'. Miraculously, I sort of got pegged as a travel writer by one crowd, and as a parenting writer by another, and still there are people who think that everything I write is for children, even though I've only had one picture book published.
I'm always looking to diversify, but I am happy to be mistaken for a travel writer. So, when Joe Biel of Microcosm Publishing suggested that maybe I should be the one to write a guidebook to NYC for them, I leapt at the chance. My zine, "the East Village Inky," used to have quite a  guidebook-ish element … my ploy to get the childless and child-free-by-choice to read it along with the HipMama crowd. And I have always had an insatiable appetite for sharing information with fellow travelers.
JB: What are the benefits of a "wholly analog" print guidebook over an e-version?
AH: Probably none if you look at it as a businessperson (which I  have obviously never learned to do). I think there's a certain type of traveler who is drawn to the romance of the battered guidebook, with places and names jotted into the margins, scraps of paper bearing new friends addresses and other such ephemera tucked into the bindings. A [print] guidebook is a sensory repository in a way an e-book or app is not. The ZG2NYC includes phone numbers and whenever possible websites, so that its readers can do some advance research, or whip out their phones to confirm coordinates and hours while en route, but I advocate putting that shit away as soon as possible. Many experienced travelers share a belief that the whole point is to escape the every day  and heighten our awareness of the world around us. Electronic communication devices seem to have the opposite effect. Not to get too Luddite, but screens in general have that effect. I'm much more grounded drawing or writing in a journal with a pen that i am hunched over my laptop.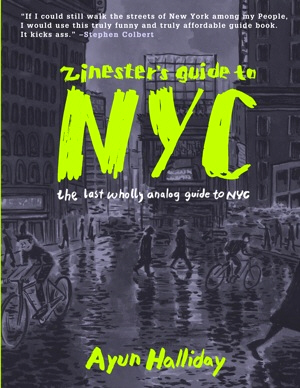 JB: What was the most difficult part about publishing this book?
AH: …trying to keep track of all that information! I don't know how real guidebook writers like you do it, but next time I am definitely arranging things geographically from the get-go. My approach was just as higgledy-piggledy as the way I keep my tax receipts and that ain't good.
JB: What did YOU discover about NYC during your research of ZG2NYC?
AH: What an EXCELLENT question! I discovered the Pakistan Tea House, courtesy of Esther Smith, and the Tip Top Lounge, courtesy of Cristy Road. Fly alerted me to the annual Punk Island event. Jerry the Mouse (whose last name I still don't know!) turned me on to A.R.T.I.S.T., an activist group whose mission is to protect the rights of street artists. Sadly, the Cosmic Cantina closed before I could order a Rems. It was a sandwich which contributor Emily Rems named after herself – apparently, you could build a sandwich to order, and then have it entered into the system, thereby making it possible for anyone to order it by name. There's some consolation in the Pukk lunch special that Vikki Law turned me on to – I had walked by that place hundreds of times and never given it a thought – it's minimalistic, chilly decor holds no appeal. Well, the food is DELICIOUS and such a bargain! Nice enough to take your mother, assuming she'll eat vegetarian Asian food. Also, I'd like to thank Josh Saitz for hipping me to the porn stores in the shadow of the Empire State Building. I have yet to plumb their interiors, but have walked by, and if we may go by the window displays, can confirm that they are exactly as he describes.