During the last eighteen months of researching the Maya region, specifically, researching travel and tourism in the Maya region during the final clicks of the 13th bak'tun (the sacred 5,125-year chunk of the Maya Long Count which will come to a close this December 21), I've had the privilege of meeting a wide range of people whose lives are somehow entwined with the Maya calendar and culture. I've interviewed authors, archaeologists, shamans, elders, and documentary film makers.
This Friday in Boulder, I've invited some of these new friends to my neighborhood community performance spot, the Nomad Theater. The film/concert/ceremony/lecture is scheduled for the evening of Gregorian date September 28, 2012; or Maya Long Count date 12.19.19.13.16, 11 Kib, 19 Ch'en. We'll be gathering for the Colorado premiere of 2012: The Beginning, a 52-minute documentary film by Director Shannon Kring Buset, both to answer questions about the Maya calendar, and also to raise money for the San Rafael School of Copán Ruinas, Honduras.
Tickets are $20 in advance, available at http://2012filminboulder.eventbrite.com/.
The evening will begin with a sacred fire ceremony by Aumrak, Guatemalan priestess, as well as a talk by 2012 author/scholar John Major Jenkins, a Q&A with Director Shannon Kring Buset and a special musical performance by TIERRO, the new musical group by Kan'Nal co-founder Tierro Lee.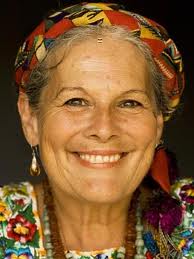 AumRak, who is featured in the film 2012: The Beginning, is an acclaimed curandera (medicine woman), transpersonal psychotherapist, and ceremonialist. She is from Central America and travels around the world to do her work.
John Major Jenkins is a pioneering voice in the evolving 2012 discussion, with over twenty years of experience defining and debating the issues. "I'm excited for the showing of this wonderful film," Jenkins said, "and to return to Boulder. I wrote several of my early books while living in Boulder."
The film, 2012: The Beginning, was shot in six countries, and includes visits to the sacred Maya texts, to see what they actually say about December 21, 2012. It was the most-watched program of the 1,000+ at MipDoc 2012, the world's premier factual programming showcase held in Cannes each spring.
LEARN MORE: Official event website