46 Gift 'n Gear Ideas for Father's Day 'Round the Campfire
by Joshua Berman
There he stands–a handcrafted hunter's axe upon one shoulder, bits of bison meat in his beard, and a faraway look in his eyes as he stares through the campfire. The flame-charred Dutch oven is scraped clean of his award-winning, camp-cooked, seven-layer Mexican lasagna. The kids are giggling and licking marshmallow off their fingers, mom is getting the beds ready in the glowing tent, and Dad–he surveys the scene, calmly, comfortably, and holds it all together.
So let's set him up with the proper tools for the job. The ideas in this gear guide are somewhat random, and range from a $2.99 coffee maker to a $600 tent and a few dozen options in between. Most of these gifts revolve around the principle of craftsmanship: i.e. a perfectly pitched tent, a one-match fire in gusting winds, a gut-warming dinner, and a clean, safe, organized campsite. Anything you can give your father to better these campcraft skills is a gift that keeps on giving. In other words, give a Dad a pizza and he eats for one day; give him a Dutch oven, some welder's gloves, and a cookbook and he'll feed his family all summer long.
Father's Day Card
I normally don't like buying a card for so-called Hallmark holidays. I prefer to hand-scrawl a personal note on folded paper. But for this camping-themed Father's Day, I'm going to make an exception: Just look at this Camping Trip Pop-Up Card ($13)! Made by Lovepop Cards, you open it up to a 3D laser-cut campfire surrounded by paper stones, camp chairs, and tent. It's sturdy, 5″x7″, and comes blank with an envelope. It's the next best thing to sitting around the fire together.
National Parks Pass & Guidebook
If you haven't heard, 2016 is the Year of the Park, a 12-month-long celebration of the National Park Service's centennial anniversary. Think about getting Dad an "America the Beautiful" National Parks annual pass ($80). It will give him incentive to get out there, maybe take you with him, and it's good at all 411 areas in the National Parks System, including all 59 National Parks, for one full year. The pass covers Dad plus 3 accompanying adults and all children. To help you choose where to go, pick up this newly updated 8th edition of National Geographic's Guide to National Parks of the United States ($29.95). It tells you where to go and stay, and includes 300 photos and 80 color maps.
The Burly Dad
Pictured: the author, with one of his three daughters. She's holding a Thermacell Mosquito Repeller Scout Camp Lantern ($39.99) which, in addition to a 220-lumen light that runs for 10 hours on its highest setting, repels mosquitoes, black flies, and other biting insects within a 15-foot radius.
Dad is wearing: prescription Costa fly-fishing Jose sunglasses ($259) with green reflective lens, built by hand and 100-percent polarized-great for driving through the mountains or standin' in the river;
Carhartt is not all about work pants and jackets; they also make this quick-drying polyester Force Extremes quarter-zip long-sleeve shirt ($39.99).
Check out the SeV Sportsman Vest ($175), a brilliant gift idea, with a rugged, heavy design and no fewer than 24 pockets(!), including a zippered back pocket with a loop to hang a water bladder, a multitude of tech/gadget spaces, and an integrated game bag for huntin.' When I took my three young daughters camping a few weeks ago however, I dedicated an entire pocket to diapers and wipes, so I could be quick on the draw at all times; in the other pockets, my handy campsite items like knife, matches, headlamp, and snacks (for melting-down or mildly injured kids).
Continuing downward, those are Under Armour's ArmourVent Trail Pant ($89.99), a stretchy, quick-dry expedition pant that easily moves between trail, campsite, and river (stretchy trail shorts $59.99). Holding those up (you can't see it in this photo), he's wearing a no-nonsense, metal-free, no-holes Pro Belt, by SIMPLE.BE ($29); hand-crafted in Oregon, these belts were "inspired by backpacking gear" and are made of reinforced, very tough webbing and stitching.
On his feet, the ECCO Torre GTX yak-leather hiking shoes ($210) are tough, waterproof (has a GoreTex lining), but look respectable enough for the office or classroom.
Now, finally, let's talk about that axe, Eugene. The Hults Bruk Aneby ($154) is a solid, 20-inch-long, medium-size stout axe for chopping wood and pounding tent stakes. It's one of many hand-crafted premium Hults Bruk axes made by a Swedish company founded in 1697 ($89–$379). These are beautiful tools which Dad will pass down through the generations-so maybe you'll get it back one day! In the meantime, watch him smile as he removes the leather edge protector and runs his thumb along the blade. Though you may camp in an area with available kindling and firewood (especially if you're on BLM land or dispersed camping in National Forest), chances are good that if you want a campfire, you'll be using a bundle of logs purchased from your campground host for $6.
Campfire and Cooking
A small, simple addition to any campfire-themed gift is a simple pair of welder's gloves ($11–25) for manhandling logs, and/or a charcoal chimney starter to get those coals going for cooking. Another stocking-stuffer to add to your gift is one or more titles from Tim Murphy's Flannel John's Cookbooks for Guys (all titles, $9.95). "Flannel John's Hunting & Fishing Camp Cookbook" and the "Smoke and Fire Cookbook" offer recipes for open-flame cooking, both with Dutch ovens and aluminum foil packs.
This spring and summer, I'm trying out a 12″ aluminum GSI Outdoors Dutch oven ($72). It's not as outwardly macho as an old-school cast iron oven ("Get a rope!" typed one friend when I announced I'd chosen aluminum), but it's one third the weight, has legs that support it in the coals, and a rim around the lid which holds burning briquettes, allowing you to cook from above as well. Another advantage to this model is stack-ability. Place two or three Dutch ovens on top of each other, cooking a different course in each one. This is pro-level only. If you are not confident about your Dutch-oven skills, you can choose the best camping grill as well! Like who wouldn't like BBQ on the grill, right? When we camped at Pinewood Reservoir recently, we put enchiladas and veggies in one, and upside-down peach cake in the other. We placed the two ovens on the coals, then hiked around the lake to check out the elk herd and eagle nests on yonder shore.
When kicking back is finally in order (between diaper changes, trips to the outhouse, and assisting with fairy forest construction), this Campfire Rocker ($99) from REI is a small but comfy and functional chair which folds down quickly and weighs less than 6 pounds. I've been using it on my porch and can't wait to anoint it with campfire smoke in a few days. I love the low profile and gentle rock.
The knife
Is Dad still plugging along on his old Swiss Army knife? Let's upgrade him to manly survival knife which he can hang from his belt as he struts around the campsite, looking for things to cut: The StatGear Surviv-All stainless steel full tang knife ($44.95) has a rubber handle, steel pommel, and a hard sheath with a cord-cutter, fire starter rod, and built in blade sharpener.
If that's not quite enough knife, step it up and get him this machete-like bush blade from DPx Gear: The CHOP ($380) is 12 inches of razor-sharp Sleipner steel and a flattened and reinforced blade tip. "It's part axe, part machete and all bad assery."
Tents
There are plenty of standard dome and family tents you can get Dad to inspire more camping trips this summer, and plenty that cost much less than these higher-end, more unique options. But, you only live once. Steamboat, CO–based Big Agnes makes high-quality outdoor gear, including a line of tents with ambient lighting built into the seams. The 4-person Chimney Creek mtnGLO ($599.95) is big enough to snuggle with the whole family, and features double door and double vestibule. If you really want to surprise Dad though, get him something he's never seen before: a Tentsile Stingray Hanging Tree Tent ($549.99), a three-person tree tent that you set up between three anchor trees, completely suspended above the ground, "away from inhospitable ground-based insects, snakes or other predators." This tent is actually triple hammock, covered with mesh and a rainfly, and accessed via a floor hatch or a front door. It's pretty cool, either as an actual escape for Dad, or as a treehouse for the kids-i.e. get them out of Dad's hair and leave the family tent to the adults.
Day pack
A bombproof, medium-size pack for venturing out of the campsite would be a solid gift: the NightShift V2 from Seagull Bag ($239) has just enough pockets and straps, but not too many-kind of the Goldilocks of day packs. This is a pretty versatile pack, with laptop and cord pockets inside, but also a big primary space (comes in 20 or 25 liters sizes) for rain gear, lunch, and a small med kit-and away you go. The NightShift is pictured here in Settler's Park, where I recently took my 3 daughters hiking.
Coffee, Cigars, Whiskey, Guitars
Let's start small and cheap: a pound of Dad's favorite coffee grounds and Melitta's 1-cup pour-over travel mug set ($8.99, or the cone itself for just $2.99). Another small-ish gift idea is an 8oz Insulated Tumbler from Klean Kanteen ($17.95), for espresso, coffee, or whiskey.
Step up Dad's coffee game with some gourmet beans from Barrington Coffee Roasting Company, a small batch roaster based in western Massachusetts with an impressive farm-direct coffee menu, who also sells a hand-powered ceramic grinder ($40) for the campsite, since you probably won't have an electric hookup. For his own private French press built into a cup, check out the presse by bobble ($29.95), a two-piece, one-cup-at-a-time coffee brewer and stainless steel, insulated mug.
Does whiskey count as "camping gear"? Damn straight! Keep it classy with a bottle of small-batch bourbon like Wyoming Whiskey ($43), distilled by 4th generation Wyoming cattle ranchers in Kirby, WY (population: 92). Another idea is a bottle of Watershed Distillery 5-Grain Bourbon ($39.99), which boasts a butterscotch and caramel undertones with hints of vanilla and wood. Or perhaps your Dad is more of a moonshine man and would get a kick out of receiving a can of Stillhouse Whiskey ($27.99), an 80-proof, 100% clear corn American whiskey, served in a stainless steel can that you could easily mix up with your lighter fluid. Stillhouse is surprisingly clean and smooth, and comes in a few flavors (the Red Hot infusion is a nice palate-cleanser).
Steel, bullet-stopping whiskey flasks are passee. Instead, grab a backpacking-friendly Vapur Incognito Flexible Flask ($6.99), a flexible, low-profile beverage transporter that carries .3 liters of courage.
Okay, let's talk cigars. Not the crap you find in the drug stores or gas stations. I'm talking about premium, hand-rolled blends of northern Nicaraguan tobacco-some of the best rated cigars in the world. Foundation Cigar Company is a new venture by master blender Nicholas "NickRAgua" Melillo. There's a fascinating story behind his debut brand, El Güegüense, the "Wise Man" ($10-12 per stick, $236–270 for a beautifully packaged box), which celebrates a centuries-old folk dance in Carazo, Nicaragua. It is a brilliant, smooth smoke.
Getting Dad a couple of cigars is a nice gesture (order some at Famous Smokes), but make it a really special package by adding a XiKAR Outdoorsman gift pack ($35.99)-an airtight 5-cigar humidor case and a XiKAR "Stratosphere" torch lighter that works at up to 12,000 feet above sea level (which should cover most campgrounds in the lower 48).
The guitar (the other axe)
I don't care if your Dad has never taken a guitar lesson in his life, or if he's Jimmy Page. Giving him a Taylor GS Mini guitar ($500) will be the karmic spark to get him to start playing music. If you buy it, he will play. I hope. Maybe he'll lead campfire jams, or maybe he'll just noodle around while dinner cooks-as long as he's happy. The Mini is scaled down for portability but without compromising much sound. It plays and feels pretty close to a full-size guitar, but is also small enough that my 8-year-old daughter immediately wanted to try to play it. It comes with either a solid spruce or mahogany top. We'll find out this summer how the Mini holds up to smoke, sparks, and running toddlers.
Camp shoes
I do like the versatility of my brown ECCO yak leather hiking shoe (see above), which, though waterproof, might not cut it if conditions are particularly wet and marshy. When it's mud season (as we call springtime here in Colorado), or if you're hanging around a swamp or tropical forest, a 100% waterproof shoe or boot from The Original Muck Boot Company would be a thoughtful gift. New in spring 2016, the Muckster II ($90–110, depending on ankle height) slips easily on and off and has nice traction on wet surfaces. You can splash in and out of the creek with these shoes and they're more breathable than you'd expect.
For a casual sandal, get Dad's old Birkenstocks re-corked, or surprise him with a pair of Chaco's Elias sandals ($110), with a solid tread, soft pigskin lining, and metal hardware. For cold mornings, Acorn's Ramber Moc ($99) is a cushy, slip-on luxury camp shoe, lined with sheep's wool but with a rugged tread for running around the site. They're especially nice when you have to get up in the middle of the night, or when emerging from your tent in the morning, keeping Dad's precious little piggies warm without making him lace up some stiff boots.
Okay, somebody's Dad out there has stinky feet that need to be addressed passive-agressively. If he has a sense of humor about it, this Bamboo Charcoal Boot Deodorizer ($48) could be a nice solution for everyone involved. Just pop them in the shoes when not being used, especially your grossest hiking boots and work shoes. They are unscented and last up to a year.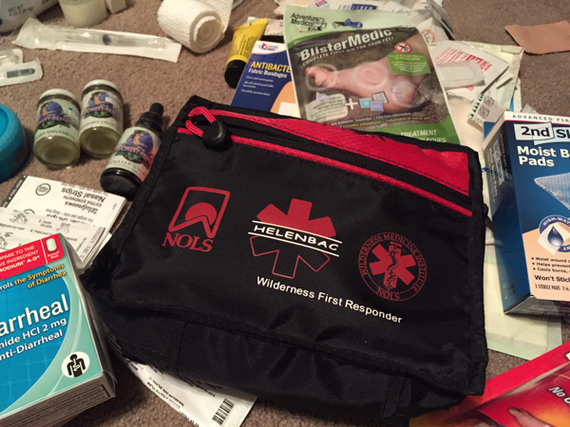 First aid kit-and training
For first-responders, "wilderness" is defined as being one hour or more away from a hospital. So even though I'm not taking my family into the backcountry, per se, I know we may very well find ourselves an hour away from definitive medical care. That's why I keep my Wilderness First Responder certificate current and why I highly recommend people who spend time outdoors seek at least a Wilderness First Aid certificate. It is a shorter course, often given over a weekend, and includes adult and child CPR certification. How about signing Dad up for a class and throwing in this NOLS Med Kit 4.0 ($49.99)? When car camping, I place my med kit and extra supplies in a bin with all the bug dope, sunscreen, and outdoor-related organic First Aid salves from Green Goo ($7.95–19.95) including sun protection, arnica salve, and cream for cracked heels and minor scrapes.
Cameras
Who needs to buy Dad a new camera when he's got an iPhone, right? Well, kind of. The DxO ONE ($499) is a small, square camera which shoots high-resolution RAW photos and high-quality video, which attaches to the lightning port of his iPhone, adding the capabilities of a 1-inch sensor to the already-incredible camera on the phone. This allows his camera to capture DSLR-quality images, even in low light.
If that's not unique enough, put Dad on the front lines of photography trends with his own 360fly 4K ($499), the newest single-lens 4K camera out there. They are just hitting the market this month. You've seen the videos floating around social media, right? The ones that make you hold up your phone and look in any direction at a running video? That's what this camera does. It captures 360-degree video, and has live-streaming and virtual reality capability. I'm excited to try one out at some campgrounds and hot springs this summer. If he enjoys this camera, he could even learn How to become a Freelance Videographer too!
The undies (the whites, dude!)
You will change your father's life with SAXX's Quest 2.0 Modern Boxer briefs ($30). That's a bold statement, see if you agree. These were recently named by Men's Health as "the world's best underwear." It's all about the internal "patented mesh panels" which really do keep everything in place. For this reason, and because they are lightweight and quick-drying, SAXX pairs pretty well with camping-wear 'em, then wash 'em in the river.
If it's cold out, which it usually is at night in the mountains, start with a dry, warm, foolproof woolen base layer. WoolX is a good place to start. They boast long underwear made from "Superfine Australian Merino Wool," which is as soft as cashmere, but you can still throw it in the washing/drying machine. The mid-weight WoolX Explorer 1/4-zip top ($85) and Explorer Pants ($79) will last a long time and can help make or break a trip in unpredictable mountain and desert climates.
Man packages
If you can't decide on which items to combine, there are a few survival-themed gift packages to choose from. Man Crates are industrial-looking wooden crates filled with gifts, which come with a personalized crowbar for Dad to pry open his gift ("No bow, no ribbons, no fluff, and absolutely no instructions"). There have a number of outdoor-themed gifts, including an Outdoor Survival Man Crate ($109), which comes with a 1-person cookset, multi-tool, compass, paracord, firestarter, glow sticks, FM21-76 Army Survival Field Manual, and snacks.
Speaking of snacks, let's bring it back to those bits of bison meat in Dad's beard in the beginning of this article. Get your jerky-loving Dad a big care package of EPIC Provisions-these are 100% grass-fed, meat-based and wild game protein bars, including salmon, wild boar, bacon, and of course, bison.
Duke Cannon makes man packages which they ship in ammo cans. These include everything from grooming kits to camp supplies, to strange combinations to the two, like the American Soap and Hatchet Set ($175). Everything is made in the USA, including 18″ steel hatchet and bottle opener, some big-ass bricks of soap, and other gadgets.
***
–Joshua Berman is the author of MOON: COLORADO CAMPING and a monthly columnist for the Denver Post. His website is http://joshuaberman.net/ and he is on Twitter at @tranquilotravel
Thanks to photographer Halonah Abraham Paiss for assisting with some of these images.
Note: The blogger received product samples from some of the companies above for review purposes. He was not paid by any company for inclusion in this article.