Here it is! A little something for everyone on your list, especially the travelers, cyclists, hikers, grillers, coffee connoisseurs, happy campers, and survivalists. I've been testing out some of these items for months, and some of them I learned about this morning. They cover many budgets, abilities, sizes, and activities. Let me know what I missed—and happy travels.
Camping Gear
Camping and picnic quilts are popular these days. Some even snap up into a minimalist sleeping bag or hammock liner. The Firebelly Trail Quilt ($279) is a 30-degree-Fahrenheit rated down blanket measuring 54″ by 88″, which is nice for road tripping, camping and other outdoor activities. It has snaps that integrate with the Roo Hammock ($99) and drawcords that allow users to create a warm footbox. The Firebelly is made of Atmos X 15D nylon ripstop which retains body heat and is very durable.
One of the more heavy duty quilts, the Lowlands Blanket ($199.99) is a tough, waterproof blanket that is 55'' x 78'' and comes with a water-repellant carry bag. You can throw it down anywhere, then put it back in its tough carrying case, and machine wash and dry it at home.
For hiking poles, these LEKI MVC Black folding poles ($219.95) are a solid, high-end choice. They fold and pack down very small, to be stored or strapped somewhere. For additional steady footing this winter and spring, grab your loved one a pair of Yaktrax Walk ($20) steel coil ice and snow traction devices; they strap right on your boot, are spikeless, and super light. 
An essential outdoor (and car camping) tool, T-Rex Tape is "formulated with super-durable, extra-thick, UV-resistant materials to work longer and hold stronger…in all kinds of weather." It comes in various sizes and is ideal for outdoor gear repair on the fly. T-Rex Tape keeps water and snow out (wrap it around the top of your boots), patches holes in tents or jackets, and can repair hardware like a broken ski pole or trekking pole.
For the campground or the tailgate, this compact Mr. Steak Infrared Portable Grill ($229.99) is made for the back of your car, the top of your picnic table, or your porch at home. These grills use use "the same technology used by steakhouses" to maximize your outdoor cooking game. It puts out 14,000 BTUs of cooking power from a ceramic infrared burner which sears in the flavor of the meat with super-high heat.  It has electronic ignition for fast lighting, a removable grease tray, and runs off a 1 lb. propane cylinder.
For something completely different, for your hardcore prepper/survivalist/camping buddies, order them a package from Crate Club (from $23.99 per month). They deliver tactical, survival and outdoor adventure gear every month. Crate Club packages include products from brands like Gerber Gear, Vertex, 511, Orca Coolers, Corkcicle, Vortex Optics, Black Diamond and others, and are "curated and certified by REAL former Special Ops."
Tundra Haul ($399.99) is a tough, burly cooler from YETI, with "NeverFlat wheels" and a StrongArm Handle, which turn your cooler into a dolly to haul items to and from the campground. Bonus: using a 2:1 ice-to-can ratio by volume, the Tundra Haul can hold 45 cans of beer.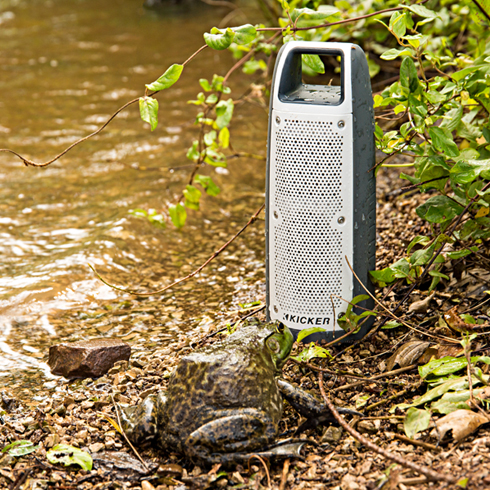 I normally prefer the sounds of nature around the campsite, but sometimes some background music is nice. To be the hero of the campfire, show up with a full YETI cooler (see above ice to can ratio) and this 16-watt, 4-speaker, 360-degree Bullfrog BF100 Bluetooth Speaker ($149.95). It works via an app on your phone, where you have a five-band equalizer, volume control, battery status, and more. There's an AUX jack, a charging USB connection, and a Bluetooth range of up to 100 feet. It's completely waterproof, so feel free to throw it from boat to boat, or float it around the hot springs. 
Coffee, Snacks, Steaks & Whiskey
When you're traveling, you don't always have access to fresh brewed. The next best thing, if you can find some hot water, are these Dripkits (from $28/box of 10 kits). They are pour-over coffee kits for the campsite, airport. They come in packs of 5, 10 & 20.
Denver-based, certified carbon-neutral coffee exporter Pablo's Coffee (they just opened their third location at 7701 E Colfax Ave, near CoppeDota) has some interesting honey-processed Costa Rica coffee beans processed in two different ways ($12.75 for two 5-ounce tins). Different drying times affects the sweetness of the beans. The "honey process," a favored method in Costa Rica, relates to the amount of pulp removed from the coffee cherry during processing. The coffee is available in all three Pablo's stores and online. 
For dehydrated camping food, Good to Go ($12.95 serves two) is a backpacker meal company based in Maine with flavors like New England Corn Chowder, Kale & White Bean Stew, Pad Thai, and Mexican Quinoa Bowl. I always keep a case of these stuffed among the camping gear and they always come in handy—even if I use them more for a nice adult meal while the kids are eating their mac 'n cheese.
For trail snacks, Honey Stinger Cracker N' Nut Butter Snack Bars ($26.40/box of 12) are made from organic nut butter and honey sandwiched between two multigrain sea salt crackers, and covered in chocolate. They come in three flavors: Cashew Butter & Milk Chocolate, Almond Butter & Dark Chocolate and Peanut Butter & Milk Chocolate. The bars contain no artificial colors, flavors, or preservatives, and are USDA Certified Organic and Kosher Certified.
Nothing like some high-end bourbon or rye after a long day in the woods. Colorado has plenty of home-stilled options, starting with the venerable Stranahan's ($60), made by the state's first legal whiskey distillery, in Denver. Their Original Rocky Mountain Single Malt is out of this world, rich and full. If you're getting it as a gift, you can add custom engraving, a luxury drawstring bag, or leather bottle holder handmade by BillyKirk Leather in the U.S.A.

Another option is a classic Kentucky bourbon like Michter's, a limited-production whiskey made in the historic Fort Nelson Building in Louisville, Kentucky. Michter's traces its roots back to 1753, when an operation called Shenk's became the country's first legal whiskey company. The Michter's brand was resurrected in 1997 when they moved to Kentucky. Small batch flavors include a 10-Year Rye, 10-Year Bourbon, and 20-Year Bourbon expressions. There are a few higher end bottles as well, like a 116.8-proof 2016 Sour Mash, an "ultra-premium American whiskey." They have some exquisite gift boxes and packaging as well.  
Travel Gear & Accessories
If the travelers you know haven't starting packing with cubes yet, grab them one of these Pack-It Specter Tech Starter Set ($53.95) from Eagle Creek. They'll get three cubes: small and two mediums, to organize most clothes and gear inside your suitcase. The ripstop nylon bags zip up, have carry handles, and are made from translucent fabric so you can see what's inside. Keep travel essentials organized and clothes crisp. You just fold or roll your clothes, compartmentalizing them inside the cubes. The medium structured cube and folding board help keep delicate apparel and nicer outfits unwrinkled and organized. I also like their antimicrobial-treated Pack-It bags, designed for shoes or laundry
A gift for an entire family at once, the Drop Bottom Duffel ($199) is a big, honkin' duffel with some shape and rigidity, especially around the well protected bottom. Also from Eagle Creek, the Drop Bottom expands to 129 Liters of packing capacity; it can be used as one large compartment, and also has a zip-away center divider. It's on the heavy side at 8 pounds, but you get extreme toughness, heavy wheels, and reinforced corners for that. Dimension are 14″ x 32″ x 16″ in.
I've loved GSI Outdoors stainless mugs and vacuum bottles for years, so I wasn't surprised that their new Microlite 500 Flip Top ($25.95) is the most insanely efficient insulated mug I've ever seen. I've had coffee stay piping hot for 10 hours at a time in this mug/thermos. It's lightweight and slim, easy to fit in your hand, any cup holder, or even in a back pocket. You can operate the flip-top button with or without gloves. For a standard, but not-so-standard water bottle, my daughters love this Chameleon Water Bottle (£22) which changes colors with the temperature, including little hand prints. 
For yourself or a music-loving friend, these Decibullz Bluetooth Wireless Earphones ($64.99), DIY-moldable earphones are game changers, and I don't use that term lightly. "You place the earbuds in warm water and then mold them perfectly to the shape of your ear," say the instructions. And that's how easy it was. I've pretty much been waiting my entire life for these babies. They're noise-canceling, and have an incredibly full sounding considering their discreet, snug-fitting profile. If you don't like the fit, they are re-moldable as well, just put them back in hot water. Caution: you may find yourself tuning out the world more than usual.
Here's a unique gift—as seen on ABC's Shark Tank—a Wallet Buckle (from $34.95) that can do all of the following: make a statement, keep your pants up, and also hold your credit cards, ID, and cash when you go camping, traveling, or to a music festival. It holds up to 4 credit cards with a slight taper that pinches them in place, but still allows you access. There are 195 styles to choose from, but I'm looking at the Colorado flag design ($49.95). WalletBuckles will work with any existing snap-on belt.
For a beefier travel wallet/pouch, check out this SILCA Phone Wallet ($39), sized to the height and width of a standard pocket and is made from Ultra Premium Waxed Duck Canvas bag material with plenty of inside pockets and compartments for the important stuff. Made for cyclers but ideal for international travel as well. It contains an internal dry bag, holds phones up to iPhone 7 size (160mm x 80mm x 8mm), and has a highly visible reflective tab.
Our 8-pound chiweenie (usually) likes getting in her Gen7 Pet Commuter Pet Carrier and Car Seat ($99.99), which buckles into the seat between two daughters. Our dog has plenty of room to turn around, but she also appreciates the enclosed space, which we pad with all her favorite blankets. This particular model is only for pets up to 20 lbs and it transfers very easily in and out of the car (dimensions: 18" long x 11" high x 11" wide). It's also handy when you have to contain your pet in any public place or crowded situation, or flying for that matter. 
Bike Gear
Otto DesignWorks OTTOLOCK ($60) is an interesting, tough, flat design and can be used for bikes, kayaks, campers, coolers, and other large items. It weights 175g.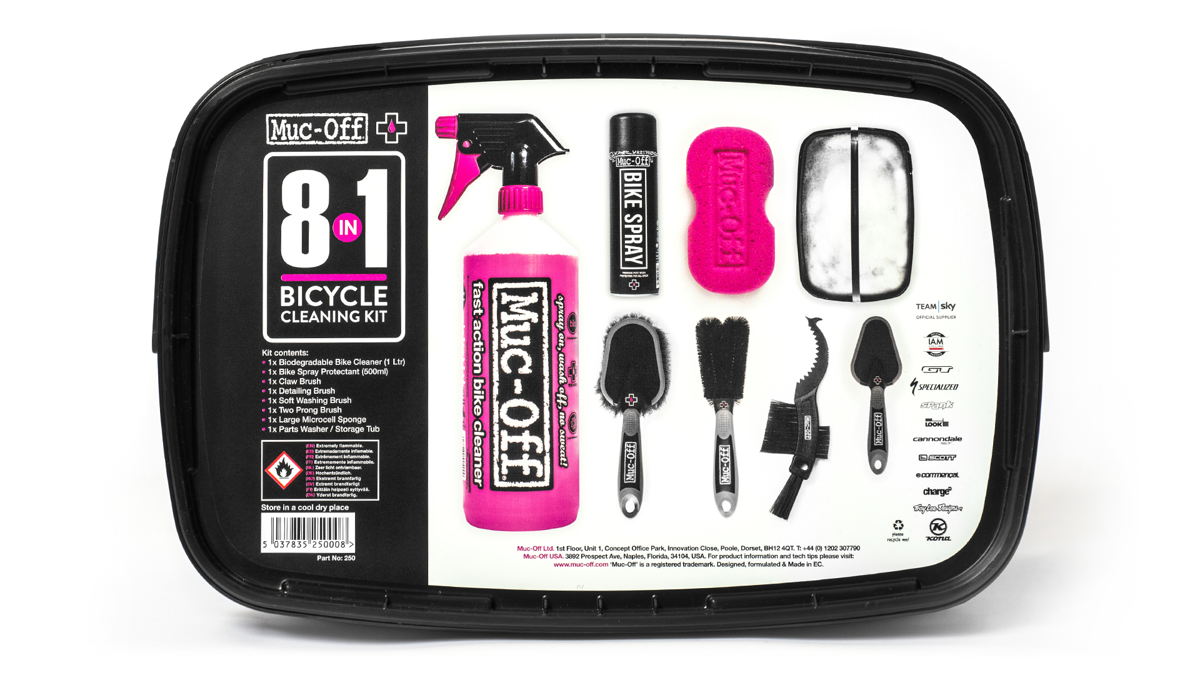 Muc-Off 8 in 1 Bicycle Cleaning Kit  ($69.99) made for a fun family activity. My three daughters each grabbed a different sized tool and got to work on their bikes—big brush to blast away spider webs and dust bunnies, smaller brushes and picks for the gears, chain, nooks, and crannies. My girls spent an hour detailing their own bikes when it first arrived. The eight items in the kit–which comes in a toolkit-like carrying case–are: Nano Tech Bike Cleaner, Expanding Microcell Sponge, Soft Washing Brush, Detailing Brush, Claw Brush, Two Prong Brush, Bike Spray, and storage box.
Even though she can ride her own bike now, my five-year-old still likes to get pulled along in this Burley Honey Bee Trailer ($399). It also converts into a stroller, but we haven't tried that yet. At this point (the other girls are 8 and 11 years old), we use the Honey Bee mostly for gear while everybody rides their own bikes to and from school. We stuff the whole thing with violins, backpacks, lunchboxes, and jackets. The Honey Bee is water resistant, has hammock-style seating, a double five-point harness system, pockets for snacks and toys, and a surprisingly huge rear cargo space which does not bulge into the seats in front of it as other trailers do. 
Travel and Camping Apparel
Let's start with the extremities: It's all about the wool. For a basic medium-weight hiking sock, FITS socks ($22.99) use a Merino wool blend and just a little cushioning all around your foot but without the bulk, so it fits in all your shoes or boots. Crew height rises just below the calf and they add a Nylon high-abrasion zone in the heel.
Showers Pass Crosspoint Mountain Socks ($45)—and Crosspoint Waterproof Knit Wool Gloves ($40) both have three layers: a wear-resistant knit exterior, a waterproof-breathable membrane, and a moisture wicking Merino Wool-blend lining. They're bombproof in the wet rain, sleet, and snow—and I've tried them all three. 
Swiftwick Ugly Sweater Socks ($19.99) are made of high-performance, moisture-wicking fibers with durable Nylon heel and toe (70% Nylon / 23% Olefin / 7% Spandex). They're optimal for cycling and running, and this line features crew cuff, medium cushion holiday-themed patterns, "with a percentage of every sock sold donated to charitable initiatives." They're made in the U.S.A. to reduce garment miles "and knit with fibers that minimize waste and energy consumption." These MP Magic Socks ($9.90) have an antibacterial treatment to render them odorless. They're also lightweight, soft on the feet, and come in a huge range of bright colors and patterns.
Skida Alpine Hats ($36) come from a Vermont-based, ski-inspired headwear and accessories brand. They have a huge variety of head, ear, and neck warmers, for any sport in the mountains in any season. They are warm, simple, and practical, with a multitude of designs.
The Maloja SamuelM. jacket ($259) is a warm, multi-sport, midweight shell and jacket, ideal for hiking in any season (as long as you have the right layers underneath). It's packable, fully wind-proof, and insulated in key areas. Maloja is named for a sleepy, steep-sloped village in the Swiss Engadin. They also make this basic CancaiM long sleeve shirt with kent collar ($109), a burly but comfortable flannel type shirt with two chest pockets and a relaxed, rounded hem. 
For jeans, the famous Austin-based Western product and cowboy boot company, Tecovas, launched its first denim collection this past fall, featuring Tecovas standard and slim jean ($125); they say the move is to accommodate all their customers who complain that their boots don't fit correctly in the jeans. These jeans designed to fix that; they're cut, sewn, and finished in Los Angeles, USA, using premium Italian denim with a dash of stretch for comfort.
Vuori Clothing, a California based active-wear company, is billing these Ponto Performance Pants ($84) as "the world's softest pant," coming in at 89% polyester, 11% stretchy latex and, of a forgiving, elastic waistband. They're stretchy and moisture wicking, perfect for hiking, running, yoga—or for just man-spreading on the couch all morning.
RELATED GEAR GUIDES AND ARTICLES: 
Top Winter Camping and Travel Gear in Elevation Outdoors (Nov. 2018)
Gear Guides in The Tranquilo Traveler