This article was originally published in the Sept./Oct. issue of AAA EnCompass Colorado magazine.
I pointed the 2005 Fleetwood Jamboree due east, straight into the morning light, and hit the gas. The 27-foot RV with its Ford E-450 truck engine surged, propelling my daughters, ages 7 and 12, and me straight into our next discovery trip. It felt strange, even counterintuitive, to be driving away from the mountains in Colorado, but away we sped.
We were embarking on a 400-mile loop through the state's northeastern plains on our first time venturing out since the COVID-19 restrictions began. We weren't picky about which direction we were headed—we were just happy to be out. Avoiding crowds was one of our goals, and Colorado's northeastern plains were about as off-the-beaten-path as you can get. We also decided to take this trip in an RV—its onboard bedroom, kitchen, and bathroom eliminated the need to use any shared public facilities, which gave us an extra layer of safety, security, and peace of mind.
So that was the plan: See some animals, some sights, and some campgrounds, while learning something about this curious corner of Colorado. Sure, it's flat, but this region is not empty—from quiet railroad towns to state parks, fishing lakes, small museums, and national grasslands. Plus, the RV itself was an adventure, a little house on wheels that my girls thoroughly enjoyed.
Day 1
Fort Morgan and Keenesburg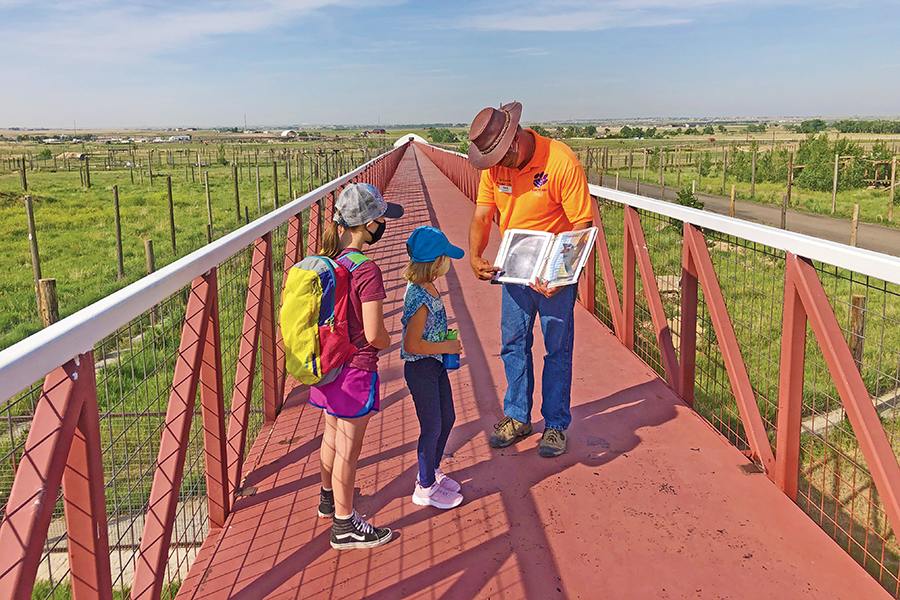 Kent Drotar, of the Wild Animal Sanctuary, shows the author's daughters which animals to look for along the 3-mile out-and-back elevated walkway. © Joshua Berman
Our first stop was the Wild Animal Sanctuary, near Keeneseburg. My contact there, Kent Drotar, had advised us that considering the super-heated forecast for that day (97 degrees Fahrenheit!), "being here early is important, as the animals will be in retreat fairly quickly." We arrived just before the gates opened, since seeing the rescued animals—tigers, lions, bears, foxes, wolves, and jaguars—was our priority.
We followed Kent through the massive Visitor Center and up the stairs to a large deck and the beginning of the elevated walkway. As we stepped to the rail, Kent instructed my kids, "Get used to looking far away." We're so used to looking at things, like cell phones, close-up, that we're not used to looking far away. Sure enough, Kent started spotting lions and bears and pointing them out.
The 1.5-mile-long boardwalk, raised high above the animal enclosures, is designed to remove the people from the animals' perceived territory. "Zoo animals are always pacing and agitated," Kent explains, "because people are right there at eye level, and they perceive a threat which agitates them. But if you're above the animals, they don't consider the space above them as needing to be defended, and they go about their normal behaviors."
This distinction between a sanctuary and a zoo is key. "This is not a zoo," says Kent emphatically. Meaning it's not a place for animals to entertain you. Rather, the sanctuary "is a place where we're trying to give animals their lives back after they were abused by humans." My girls and I pondered that as we drove away, heading toward Fort Morgan for lunch.
When we arrived, we found several inviting options along Main Street, and we spotted a nice picnic spot in Library Park near the Fort Morgan Museum, which features a a 1920s soda fountain, and a theater dedicated to musician and band leader, Glenn Miller, as Fort Morgan was his childhood home. The most appealing lunch option was AAA-approved Mav Kitchen & Taphouse, conveniently across the parking lot from AAA Three Diamond-designated Best Western Overland Inn, one of the better hotel options in town.
But, since we had our hotel on wheels, we headed out of town to Jackson Lake State Park. We pulled into one of the well-developed campgrounds, which (normally) offers shower facilities, public toilets, laundry, electric hookups, a marina, sporting goods store, and more. In fact, with a total of 240 campsites, plus day-use bathers, this place can get crowded—and quite buggy during certain times of year. But our site in Cove Campground was quiet, the sunset spectacular, and it was only a two-minute scooter ride to a sandy beach where, first thing the next morning, we arrived before anyone else and took a quick dip in the lake as pelicans floated by.
Day 2
Sterling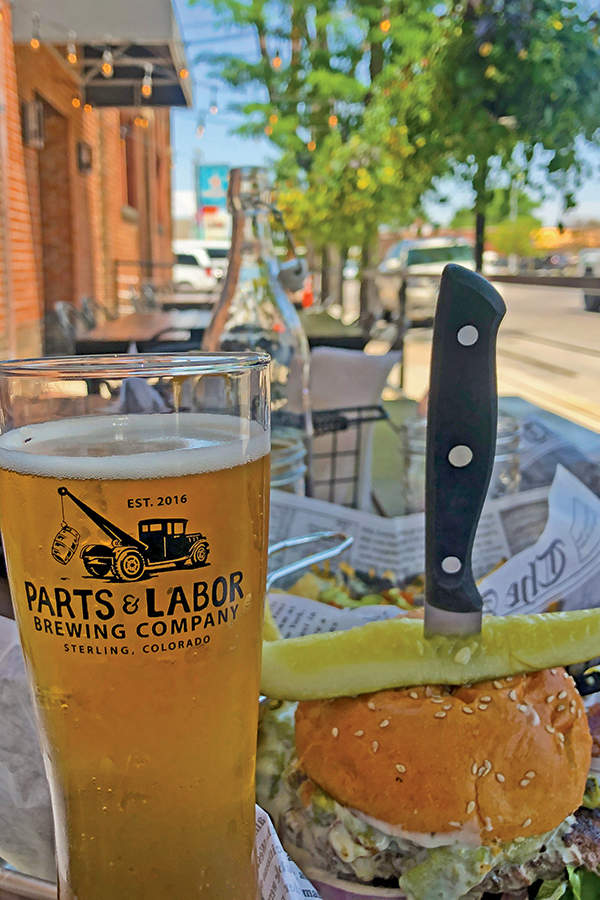 Enjoying a Camshaft Kölsch and a "Hot mess" burger, on the patio of Parts and Labor Brewing Co. in Sterling, Colo.© Joshua Berman
This is the day that the vastness of the Great Plains, with a capital "P," began to sink in. We lumbered onto I-76 until Brush, then turned off the main road for a more leisurely, but just as direct, route toward Sterling, home of the Overland Trail Museum, where you can add a historic perspective on the area.
Built in 1936, the brick museum is part of a complex of historic buildings, including a schoolhouse, church, and store, that are more than 100 years old. Surrounded by a large public park, the museum commemorates the "historic westward migration of gold seekers and early pioneers," and is named after a branch of the Oregon Trail that followed the south bank of the South Platte River through northeastern Colorado. It's hard to believe, but between 1862 and 1868, the Overland Trail was the heaviest-traveled road in America—maybe even in the world.
For lunch, we found an ideal, tree-shaded outdoor patio at Parts & Labor Brewing, where, over a perfect pint of Camshaft Kolsch, home-brewed root beer for the kids, and a pile of "Naked Nachos Colorado" (queso blanco, green chile, pulled pork, tomatoes, green onions, queso fresco, and avocado-lime sour cream), we enjoyed our first meal out in three months, with a peaceful view of downtown Sterling.
After lunch, we headed for North Sterling State Park, a large reservoir 20 miles or so outside town. We found our campsite in the Elks Campground on the northeastern shore, right next to the marina and boat launch—ah, home. This park is popular with waterfowl hunters, fishermen, and boaters. It was another scorcher the day we visited, but our site was just up the rise from a little shoreline area, where we hunted driftwood and frogs. There's an archery range outside the dam release, but we were happy to stay put and watch another unbelievable sunset from our campsite.
Day 3
Pawnee National Grasslands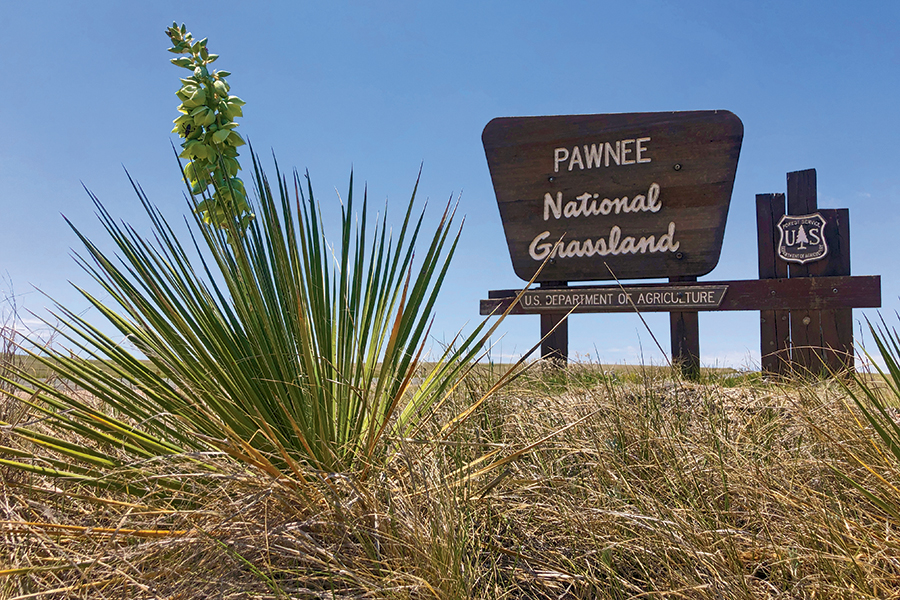 Pawnee National Grasslands is a unique patchwork of public and private lands, managed by the U.S. Forest Service to restore the native prairie grasses. © Joshua Berman
The next morning, we headed back west from North Sterling Lake, and I turned our rig onto a series of farm roads—some dirt, some paved—and worked our way to Highway 14, a handsome little two-laner piercing a horizon of fields and, of course, grass. Specifically, short grass prairie and its associated ecosystem is the main protagonist in the story of this region. The grass stays short because it rains only 12-13 inches in a year.
Early homesteaders tore up the native grasses and introduced aggressive agriculture, which created conditions for the devastating Dust Bowl of the 1930s. An effort began to restore the prairies, so what you see rolling outside your windows and waving in the wind is the 80-year attempt to fix the damage.
It's no surprise that the restored grassland areas have attracted prairie wildlife, especially birds. Since 1962, when records started being kept, 301 bird species have been spotted in Pawnee National Grasslands.
Pawnee Buttes, a short jog north of Highway 14 at the old town of Keota, in the middle of the 193,060 acres that comprise the managed grassland, is one of the better spots to experience a successfully restored prairie. The hiking trail here is 2.1 miles each way and includes a slight rise and view of the prairie. Many people come specifically to spot birds, including golden eagles and prairie falcons, or wildlife like pronghorn, deer, bison, coyotes, and prairie dogs. The trail is open year-round, but note that it can get unbearably hot in July and August.
We continued west to Briggsdale, and the entrance to Crow Valley Campground, part of the Pawnee National Grasslands, but also its own little picnic and birding destination. We rolled the RV to the back loop where 10 large, well-spaced campsites awaited—many of them shaded by large cottonwood trees. We found our reserved spot and settled in for an evening of cooling air, softening light, and s'mores and giggles around the campfire.
In the morning before breakfast, we hiked the Trail of the Mourning Dove, feeling the cool dampness of the morning, and hearing the sweet songs of birds and crickets. We didn't make it far, stopping just before the trail disappeared over an enticing rise, but we walked silently for a bit. We'll have to save the rest for another visit, as I had to chase my youngest, who was already fleeing back to the camper, and ready to go home.
Travel with the author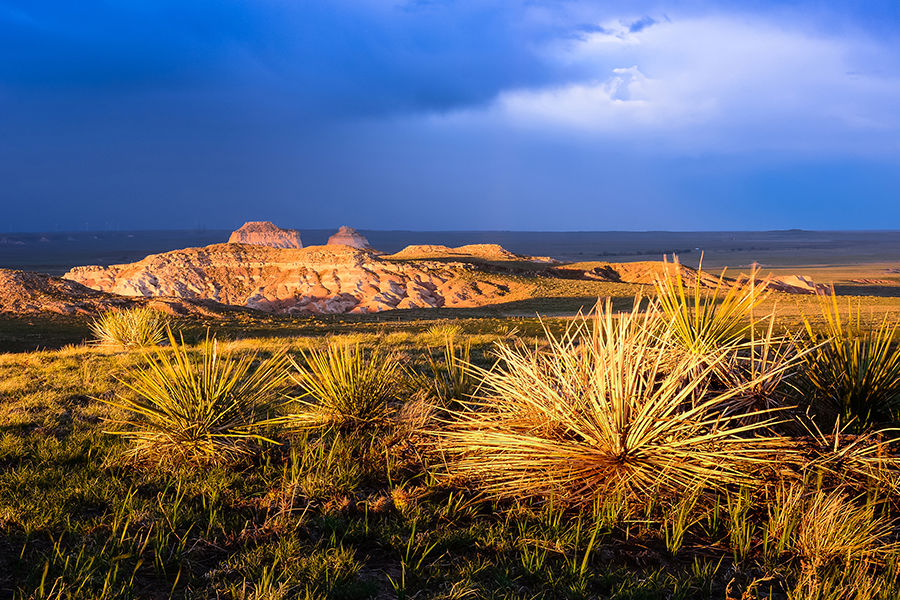 Joshua brings you along his travels through Northeast Colorado. WATCH here:
Did you know?
AAA offers insurance coverage for your RV to help keep you protected during your travels. Learn more at AAA.com/toys.
More "Three Days In"
Watch your inbox for more things to do in Northeast Colorado in the next EnCompass Exclusive e-newsletter—a monthly email that provides exclusive content you won't find in the print edition. Plus, keep an eye out for the next series of "Three Days In" in the November-December 2020 edition of EnCompass.